IMAGINATION IN MOTION
A bold design combined with an original mechanism lend this timepiece, presented exclusively during Watches & Wonders Geneva, an unparalleled modern personality.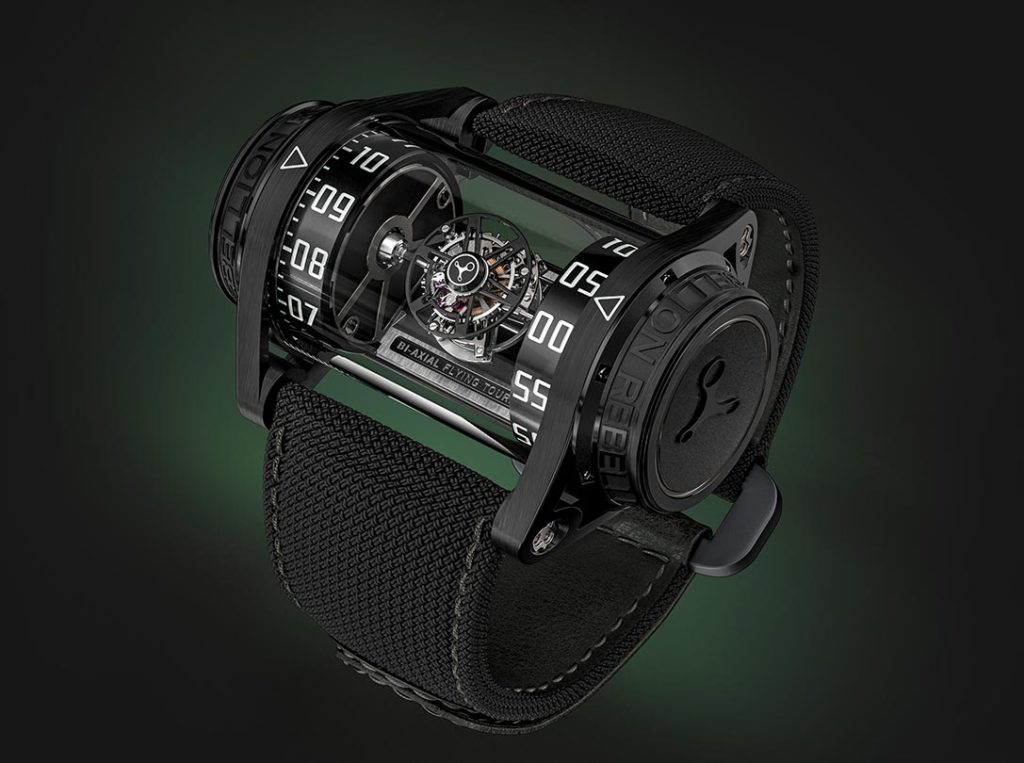 With the Weap-One Biaxial Flying Tourbillon watch, Rebellion once again shatters conventions! A flying tourbillon rotates within a 25mm diameter and 52.85mm long black sapphire and titanium diamond light coating (DLC) case. This invention endows the regulating organ with an additional soul, contributing to both the precision of the caliber and the aesthetics of the timepiece. In this instance, the mechanism is set within a frame held on either side by two plates having the same rotational speed. As if in suspension, it executes its gyrations on two axes in the space of one minute providing a veritable display of visual attraction. This ingenious hand-wound movement represents the culmination of a complex development process orchestrated in collaboration with the Concepto team.
Two discreet, flat-shaped crowns made of titanium, perfectly integrated, seal the atypical cylinder-shaped case. The one on the left serves to power the caliber with 50 hours of power reserve, the one on the right is for setting the time. The hours and minutes are displayed using two rollers positioned at the ends. Luminescent material in green is present on the numerals and on the tourbillon cage, transforming the Weap-One Biaxial Flying Tourbillon when ambient light is not available. A hypnotic choreography takes center stage. The regulating mechanism, designed to limit the negative effects of gravity, mesmerizes one's gaze.