On the occasion of the biennial Dubai Watch Week which took place from November 24 to 27, 2021, bringing together more than fifty watch brands in a unique setting, we had the chance to talk with Calim Bouhadra, CEO of Rebellion  Timepieces.
Is this the first time Rebellion is participating in Dubai Watch Week (DWW)? Absolutely! We have wanted to be at DWW for several years but never really had the opportunity until now because we always had a lot of events, races. I thought about it but often missed the boat, I was always too late. As we are racing in Saudi Arabia, it has become an important market for us to focus on. It didn't make sense for us to participate in the Dakar and not be present at the DWW. But now we are there! Moreover, and this is great news for our brand and makes us very happy, we are opening our first own store in collaboration with one of our partners in Abu Dhabi.
And why Abu Dhabi and not Dubai? We already have a retailer in Dubai, and this partner in Abu Dhabi, who is very well established in the local market, suggested that we open this new store there. As we trust him, we followed him in this project.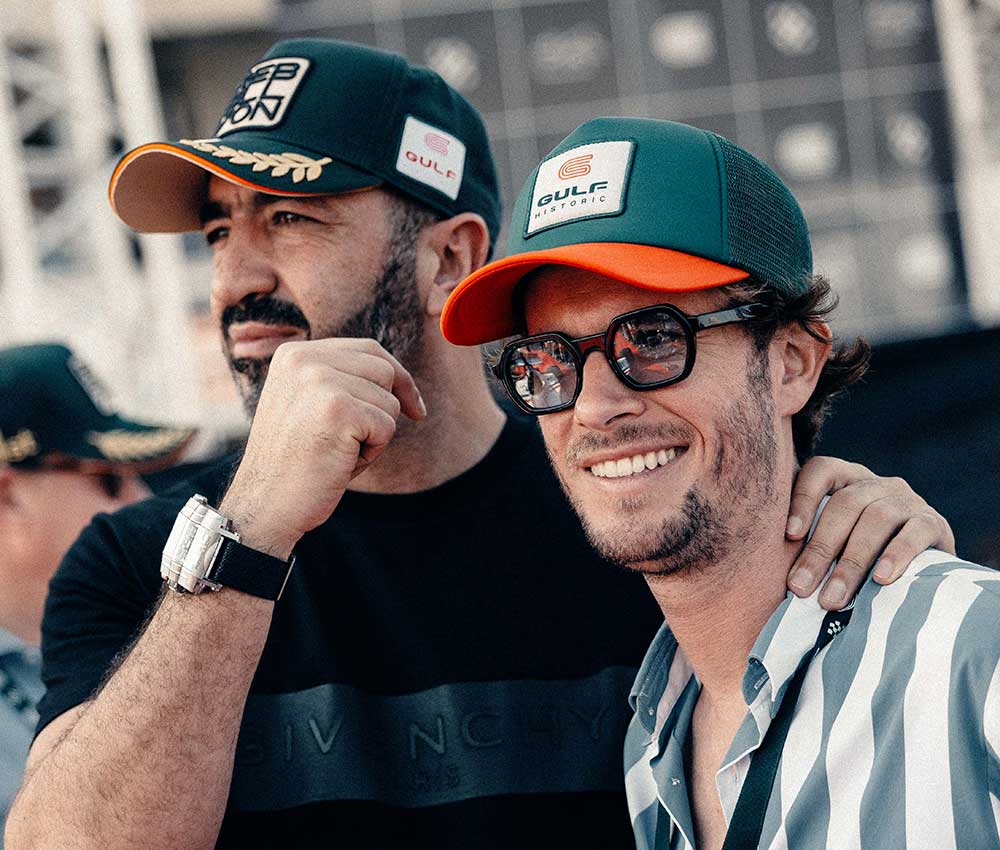 Calim Bouhadra & Pierre-Brice Mena GPX Racing Team Principal
So it's a 100% Rebellion store? Exactly, 100% Rebellion, mono-brand. Today, the watch industry is suffering, partly because of the covid and partly because of the market, which is in a state of flux, in full change. We are very lucky, unlike some brands, to be able to develop. And the opening of this point of sale is a proof of this development.
Before covid, there was a latent crisis that is now being expressed, but I have the impression that contrary to what we thought, it has more impact on traditional brands than on young companies, which are more reactive and creative. What do you think about this? I think you're right, but there are many things that bother me about the current situation. Among the big brands, some are not suffering at all. Or rather, they suffer from their success, set up waiting lists that can be ten years long and for which they very often have to refuse access. This shocks me terribly. At Rebellion, we make watches and we sell our watches. They were designed for this reason.
So if I walk into your store tomorrow, show you a piece in the window that I like, I can just buy it and walk out with it, even if I am not on your customer list? Of course you can! To begin with, we are incredibly lucky to be part of a large group, Lemo, the same owner as Rebellion, which designs millions of connectors and works with more than 150,000 customers around the world, in high tech, on the ISS, on Mars. I can guarantee you that there is not a single customer among those 150,000 customers who cannot get what they want. This is part of the group's philosophy. We communicate a lot with the customer, customize the product for the customer because that is the main quality: service. But in the watch industry, it's unfortunately no longer about service but speculation. And what bothers me is that some brands are buying up the whole grey market, creating demand.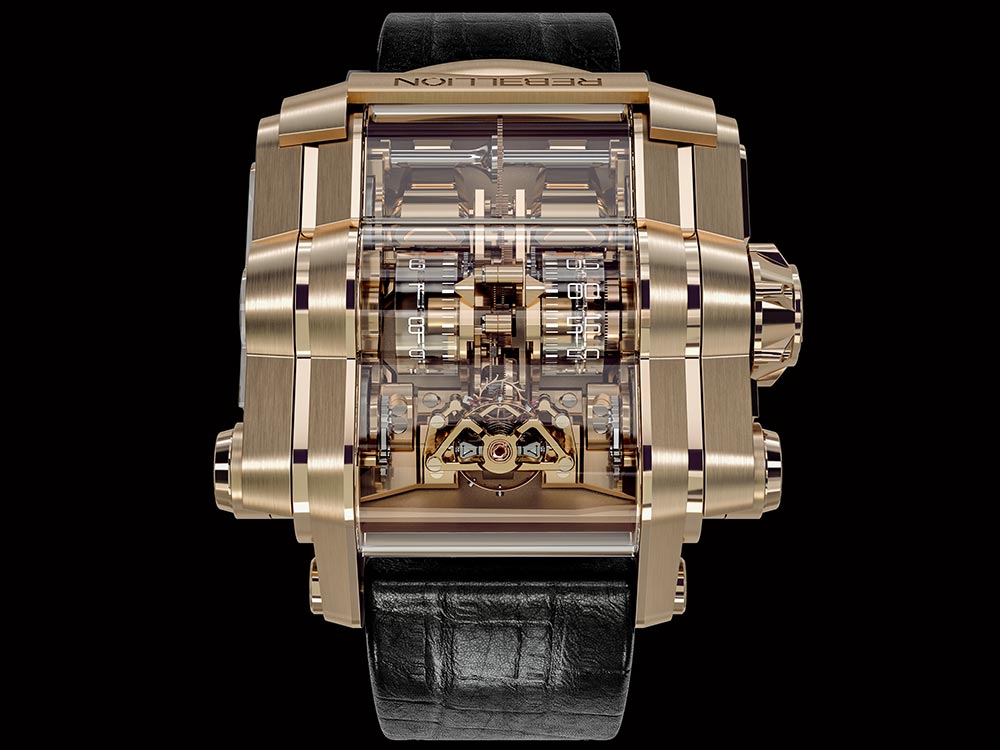 Rebellion T-1000
So a good part of this demand is fictitious, in your opinion? Of course it is! But that's not a viable way to operate. Personally, I do my job for passion, for pleasure, and I want to make products that I like and that people like. So I pay attention to my customers, I listen to their feedback, and I never want to frustrate anyone because for me a customer is a rare commodity, a gift. What I want is for them to have an experience, to get what they want, with a service, to be able to realize their dream.
Let's say I want to buy this watch with an orange strap that was on display at DWW, if I go to the new boutique in Abu Dhabi tomorrow, will this watch be there and I can buy it? Absolutely! That's our goal, our desire.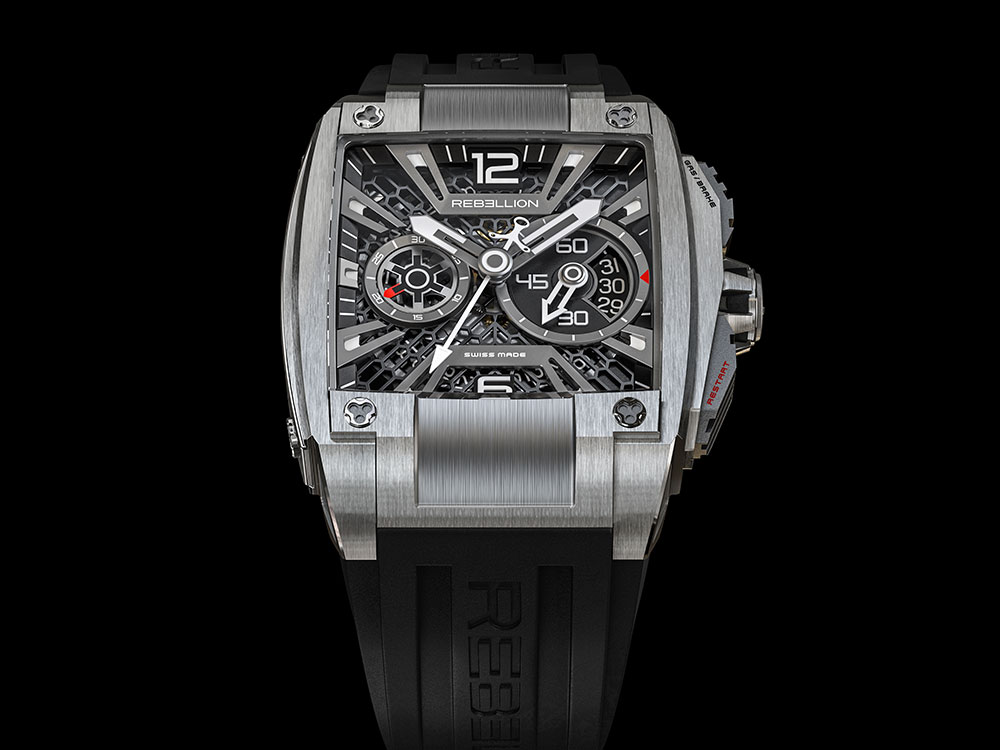 Rebellion Re-Volt Chronograph
So there is no time to market, you can buy it immediately? I insist because I think that this is one of the weak points of the industry and that we need to make even more efforts in this area. Yes, absolutely. We are an independent brand, a small brand, but supported by a large group, which is quite rare. We want this brand to be "niche", we want all our customers to have the possibility to customize their watch, so we have the ability to be very reactive. What interests me in relation to your desire to buy this watch with the orange strap, is to know if you want the same or with a yellow or red strap, if you want to have a small inscription on the side such as a birth date for example. What I'm interested in is giving you the opportunity to make this watch your own and say "Oh, that's mine! I made it and nobody has one like me". And this is an experience, a memory that we will keep.
Precisely, in terms of customization, how far do you go? Does the customization only concern the colors of the straps or the engraving, or can I, for example, ask for the orange border of the counters on the dial to be pink? And if so, within a reasonable waiting period? Yes, everything is possible. On the other hand, the waiting time is linked to the "depth" of the customization, so if we make major changes to the dial, if we make parts just for you, it will take about four to six weeks.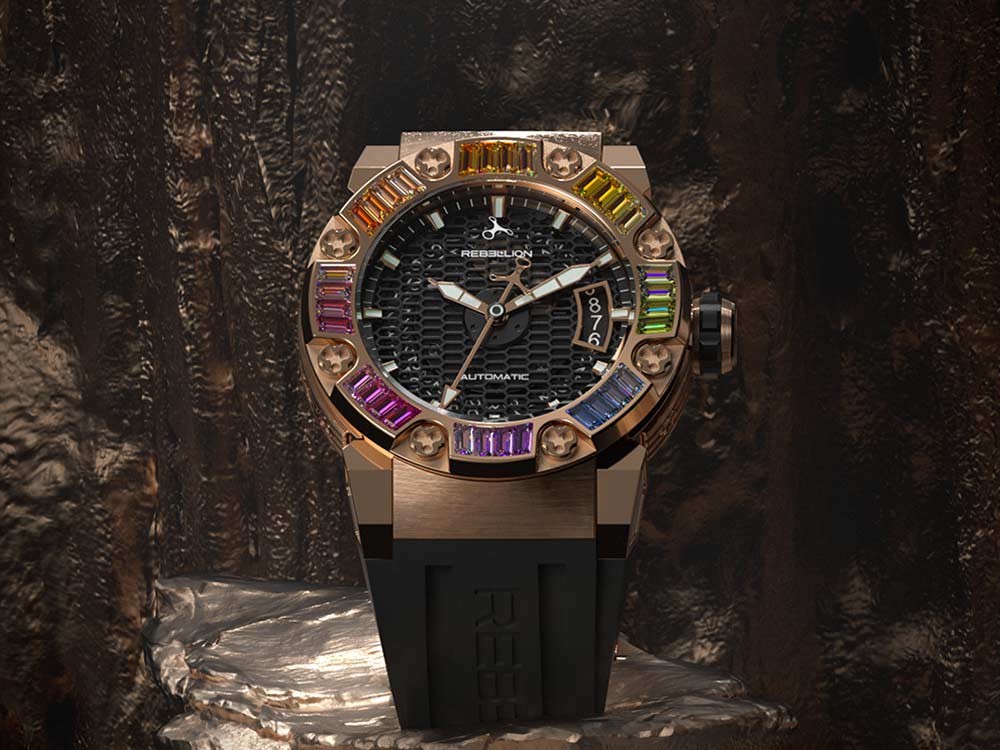 Rebellion Predator S Three Hands Rainbow
Which is quite reasonable, because when a customer makes a special order, he expects a delay anyway Absolutely. For me, the feeling with the customer is really important. I want them to be happy and I am responsive to that. Because everything is in-house at Rebellion, there are no subcontractors and we manage our own production from start to finish in our factory, we can afford to offer this service in a relatively short time.
Let's go back to the Abu Dhabi store, is it big? Does it face a street or is it located in a shopping mall? It's a more or less 100 square meter store in a mall in the Etihad Towers that embodies the identity of Rebellion, so it's racing-oriented but not too much. We are very proud of it. We present the full range of our collections, from the 3,000 USD watch to the 300,000 USD watch, as well as some unique pieces. We also have a wide range of product variations. You will certainly find what you are looking for, and if not, we will make sure that you get the watch you want.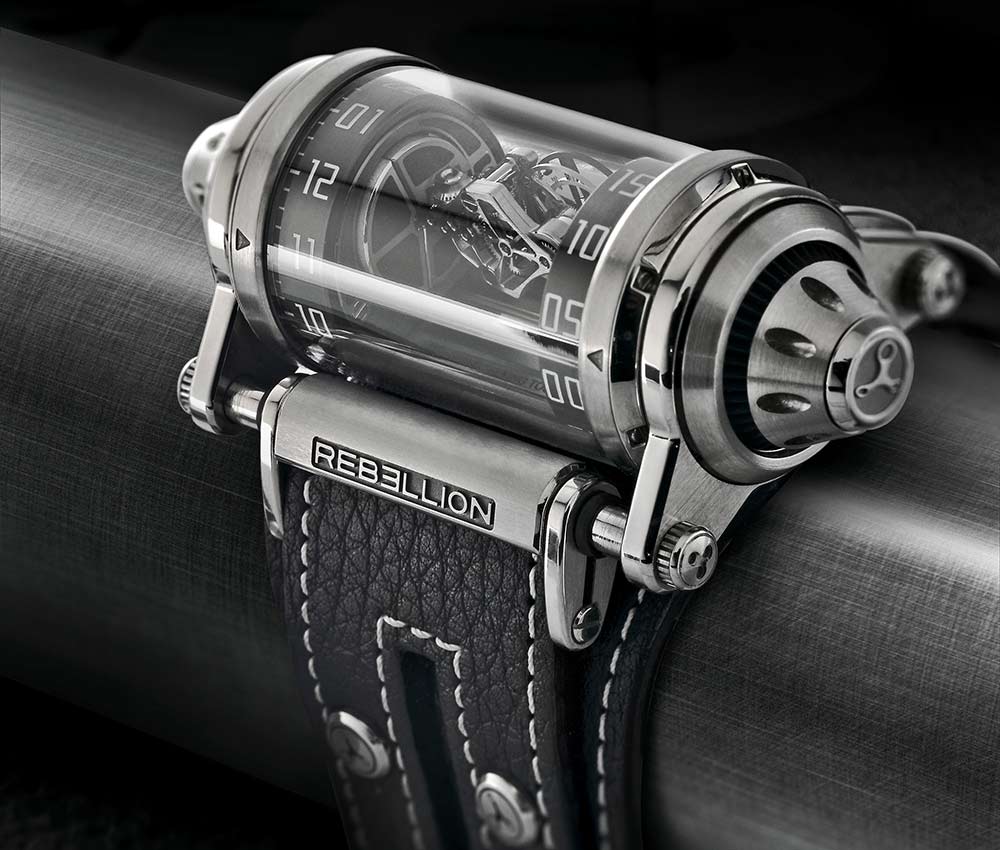 Rebellion Weap-One
Do you have any plans to open other flagship stores? Yes, Abu Dhabi is the first one but we have a second opening schedule  in Shanghai, with a local partner, which is delayed for the moment because of the covid situation. I am happy because the Chinese market is important for us and we want to expand there.
Opening a boutique is an important step in the life of a watch company, how do you feel about it? We realize that there is an exponential rise of the brand, and in fact 2020 was one of our best years, right in the middle of covid. We could have thought that because of the pandemic there would be a slowdown but not at all, at least not in our segment
And if it is not a secret, can you tell me about the new products planned for 2022? Yes, the new T-500, which is a bit like the T-1000, the one that best symbolizes Rebellion in my eyes and that I wear every day. It has not aged a bit, people love it. The T-500 has a power reserve of 500 hours. It retains the same proportions as the T-1000, but with a slightly modernized and internally reworked look. Also new for 2022 is a watch that is a little bit flatter, a little bit more feminine, because we have a lot of women who want to wear a Rebellion but in a thinner version. The challenge for us was to obtain an adapted, thinner mechanical caliber, because it was out of the question to take the easy way out and put a quartz movement. There is no quartz movement at Rebellion. There never will be. It is not in the spirit of our brand. These are the challenges that await us next year!
By Sharmila Bertin