COMIC BOOK SPIRIT
Within the case designed by Henri d'Origny, two versions released in a limited edition of 24 watches each transpose an attractive imaginary scenery created for a silk scarf.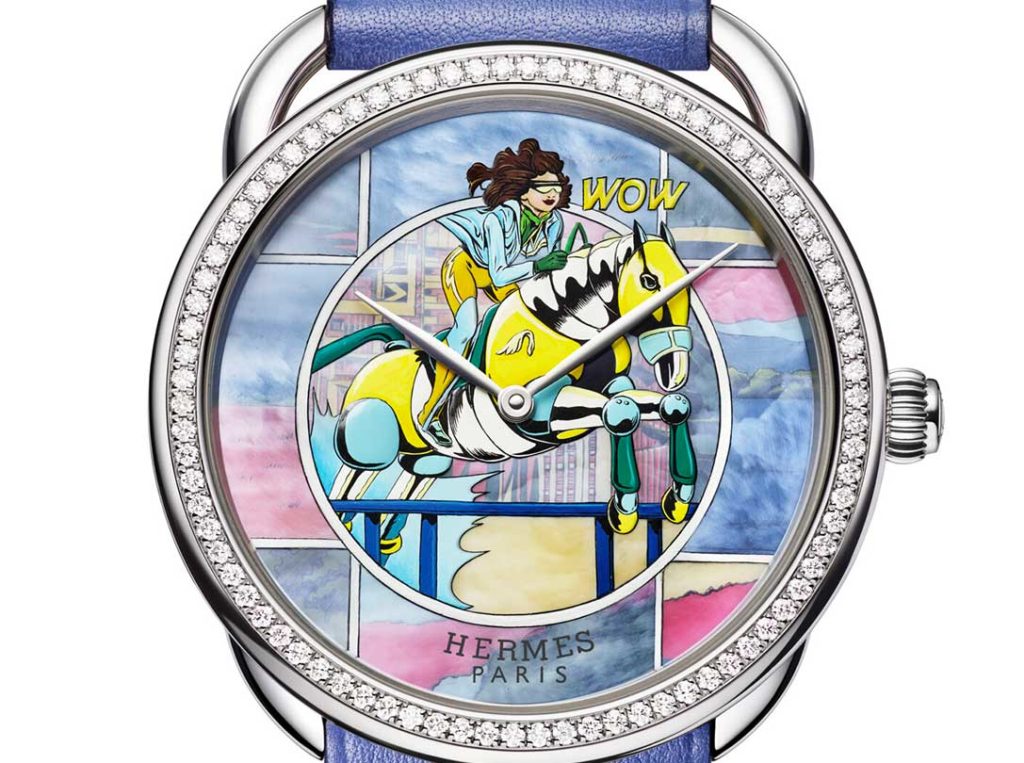 Ugo Bienvenu, a comic book author and director of animated films, came to the attention of Hermès. In 2021, the Parisian fashion house offered him the opportunity to display his talent on a double-sided multicolored silk scarf. This was a tricky task. How to bring together his unique universe with that of the famous Parisian saddlery? The outcome took on the shape of a comic book page in which an elegant heroine ardently pursues her way through a setting inspired by the beautiful neighborhoods of the French capital. The central illustration depicts her on a dreamlike steed, evoking Hermès' connection to horseback riding. It is this image that can now be found on the dial of the new Arceau Wow watch, thanks to the dexterity of craftsmen specializing in miniaturized painting.
Their applied technique enables the vivid colors to appear as a relief. The horse and rider seem to rise out of the setting. The effect, accentuated by the surrounding composition, is brought to life with pastel colors. Crafted on a mother-of-pearl base, each dial requires 35 hours of work to perfect. At the end of this lengthy process, it is integrated into the 38mm diameter white gold case, set with 82 diamonds. The Hermès Wow is offered in two variations, one in shades of pink, the other in blue. Each is paired with a matching leather wristband. Both are powered by a self-winding manufacturer's movement with a 50-hour power reserve. Something to wear at leisure for this sublime creation.