Light & Time
To kick-off the collaboration, Daniel Arsham created a Hublot-inspired 20-metre sundial installation in the Zermatt snowscape in Schwarzsee, at 2583m.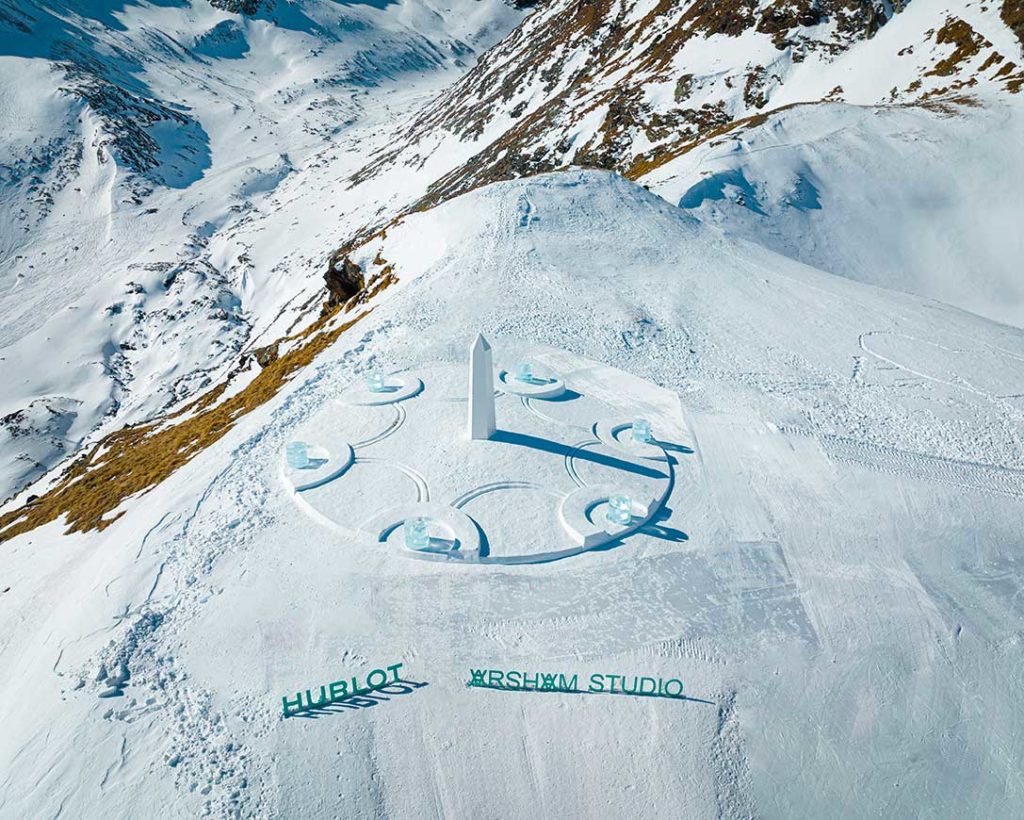 Hublot loves Daniel Arsham! The Swiss watchmaker continues its quest to be first, unique by announcing the American contemporary artist Daniel Arsham as a new Ambassador. Based in New York City, Daniel is known for his powerful works across painting, sculpture, installation, and film. He has frequently explored the concept of time throughout his oeuvre, particularly through his Connecting Time series of works and his iconic Hourglass.
To start the clock on the new collaboration and to celebrate the eternal links between watchmaking, art and craft, Daniel will unveil a temporary 20-metre sundial in the snowscape of the Swiss mountain resort of Zermatt, in the shadows of the Matterhorn, the most recognizable peak in the Swiss Alps. The ephemeral installation, titled Light & Time uses natural elements to merge the roots of timekeeping with the craftsmanship in land art. The functioning outdoor timekeeping installation is based on the shadows cast by the quartz crystal shaped obelisk. As the sun moves throughout the day, the shadow cast by the central pointer indicates the time in the raked snow. Arsham has blended form and function, creating the sundial out of the natural elements in the Swiss Alps. In this way, snow and light are combined to connect his own crystalized universe with the heritage and history within Hublot's Swiss watchmaking craft. The sundial will echo Hublot's design language, integrating familiar cues such as the famous screws that hold the Big Bang's bezel in place. The installation will also come with a twist: it will only be visible from the top of the mountain. To view it, art lovers will have to use Zermatt's ski lifts.