PRECIOUS VOLUPTUOUSNESS
With spring just a few weeks away, the Roman-born watchmaker and jeweler has put together an original bouquet of three watches with corollas haloed by brilliant stones in colors as precious as they are warm.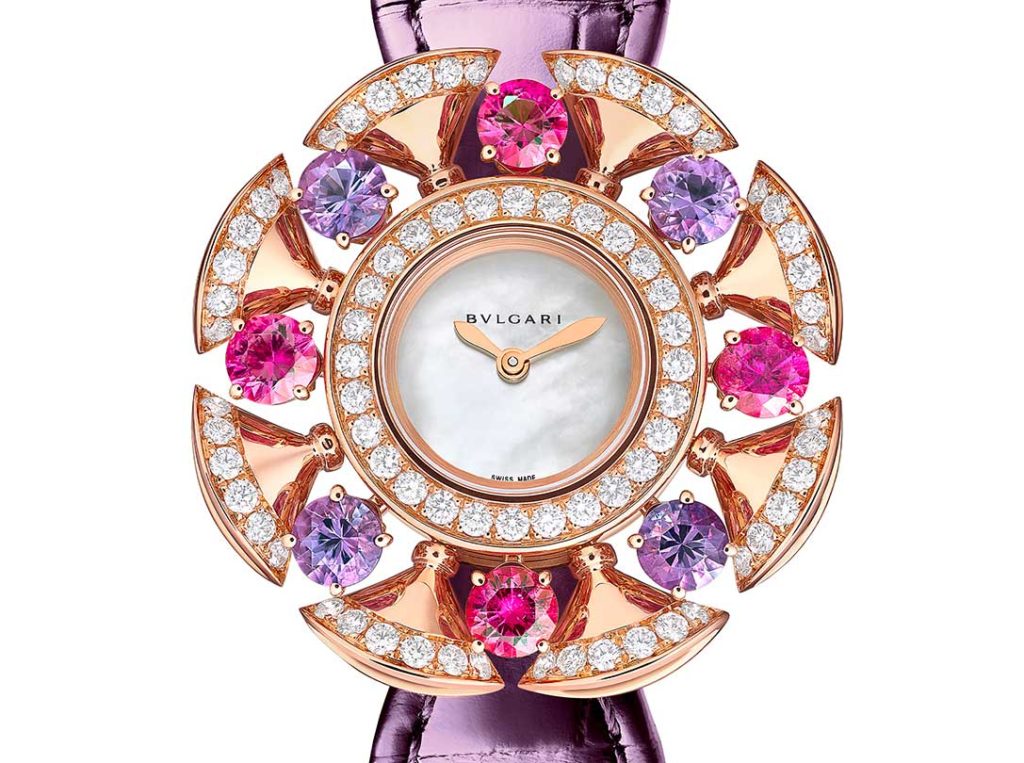 Divas' Dream. A name as poetic as it is precious, echoing the jewelry culture of Bvlgari, born in Rome in 1884, and the artistic wealth of the Italian city. The collection alone expresses a unique vocabulary that blends shapes and colors, metals and stones, to offer the wrist a lively, joyful and daring object. At LVMH Watch Week in Singapore in January, Bvlgari presented a trio of new Divas' Dream watches in tenderly sparkling shades, with soft hues like those that light up the sky on a summer's evening, all in an undeniably floral spirit.
Ginkgo leaf or fish scale, it is this fan-shaped form inspired by the mosaics lining the floors of the Baths of Caracalla built nearly 20 centuries ago that is found in a corolla on the 33mm diameter pink gold case. Each of the 8 rounded petals is flanked by a stone, either as a duo (4 topazes and 4 tanzanites, 4 amethysts and 4 tourmalines, depending on the version chosen) or solo (8 rubies). The white mother-of-pearl dial, curved with a bezel covered with brilliant-cut diamonds, hosts in its center a pair of small blue, gold or red hands, for the display of hours and minutes. Time is provided by a quartz movement. Each model is fastened to the wrist with an alligator leather strap whose color matches the stones on the case and a pink gold folding clasp punctuated with diamonds.