TAKE TO THE SKIES
Change your point of view, expressing a liberated creativity. This feat is once again successfully accomplished by the Parisian house through this exclusive series.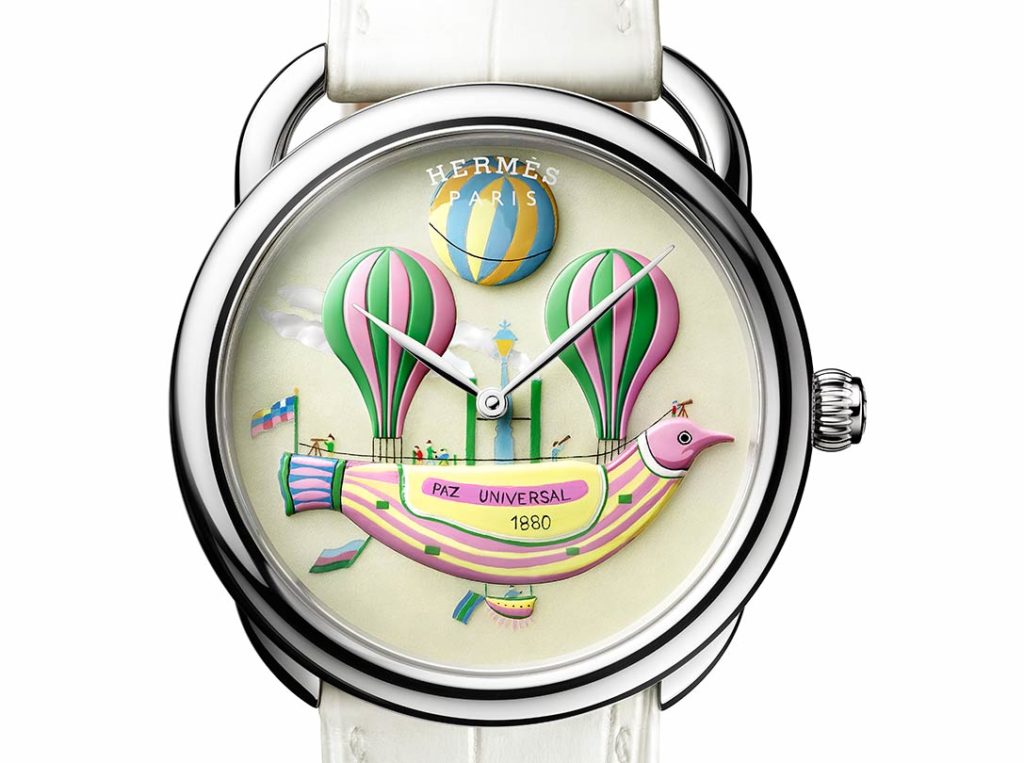 Imitate the birds to explore the skies. Numerous illustrations from the past left their mark on our imaginations. In 1984, the designer Loïc Dubigean took inspiration from them to create a silk scarf for Hermès. The setting commemorates the origins of the conquest of the sky by the balloonists and their curious machines. This whimsical world is now displayed on the delicate, dreamy mother-of-pearl dial of the Les folies du ciel watch. Pastel shades of pink, blue, green, and yellow breathe life into a white gold basket in the shape of a dove propelled aloft by two airships made of neoralite, a highly resistant resin. A polish adds sparkle to the hand-painted elements of this evocative composition. An allegory of the lightness of the balloons, as well as of the state of mind of the creations signed by the craftsmen of the Parisian house, at 12 o'clock, a round balloon spins in accordance with the movements of the wrist.
This colorful array is housed in an elegant 38mm diameter white gold case. The case with its asymmetrical lugs still retains the design of the original model imagined in 1978 by Henri d'Origny. It incorporates a Swiss-made H1837 caliber. This self-winding mechanism with a 50-hour power reserve powers a fine duo of hour and minute hands. This limited edition of only 24 watches comes with an elegant wristband made of chantilly-colored alligator leather. A visual delicacy!