TIME MACHINE
With this mystery-filled debut, the duo of Felix Baumgartner and Martin Frei share a common desire to represent time throughout the centuries and across civilizations.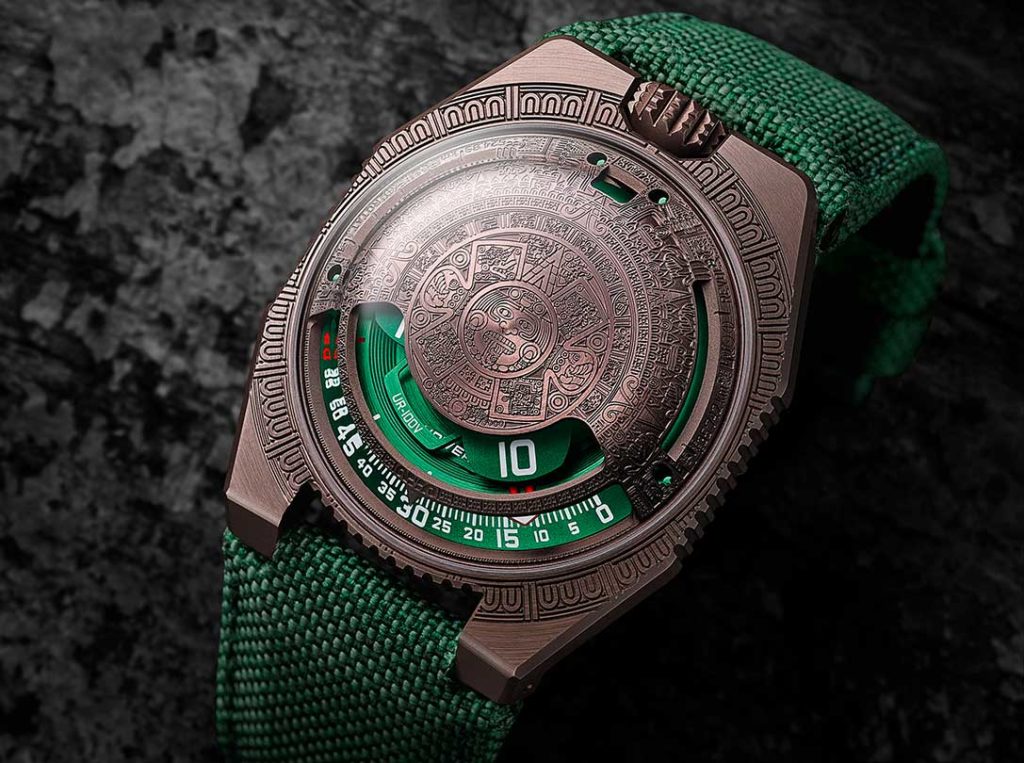 With its imposing dimensions, 3.60m in diameter, 1.22m thick, and its impressive weight of 2.24 tons, the so-called Sun Stone inspires the imagination of archaeologists and historians. Eight concentric circles surround an expressive face. The second displays engravings of a solar calendar, the third glyphs of the days of the month, and the fourth the 250 days of the sacred year. This enigmatic achievement continues to intrigue the modern-day Indiana Joneses. All of which also whets Urwerk's curiosity! With a faithful and delicate reproduction of this work, the brand kicks off a new series dedicated to retranscribing time. As such, the emblematic designs of Aztec art are precisely engraved on a dome topping the UR-100V Time and Culture case.
For this series released in only 20 pieces, while one of the inscriptions indicates the distance traveled by the Earth around the sun in 20 minutes equal to 35,742 km, the other indicates the number of kilometers traveled in this same period of time by a point located in Mexico City during the rotation of our planet, that is to say 524.89km. The original display of time information inherent to the collection can be admired. The imposing satellite hour carousel combined with a retrograde minute is powered by the UR 12.02 self-winding caliber. The pair moves in a tricolored staging of green, white, and red, in a subtle reference to the Mexican flag.