TIMELESS ROCK'N ROLL
Silent juke box, animated vinyl turntable and miniaturized concert stage at the same time, the face of the new masterpiece from the La Chaux-de-Fonds brand retraces the musical epic of one of the most legendary rock bands.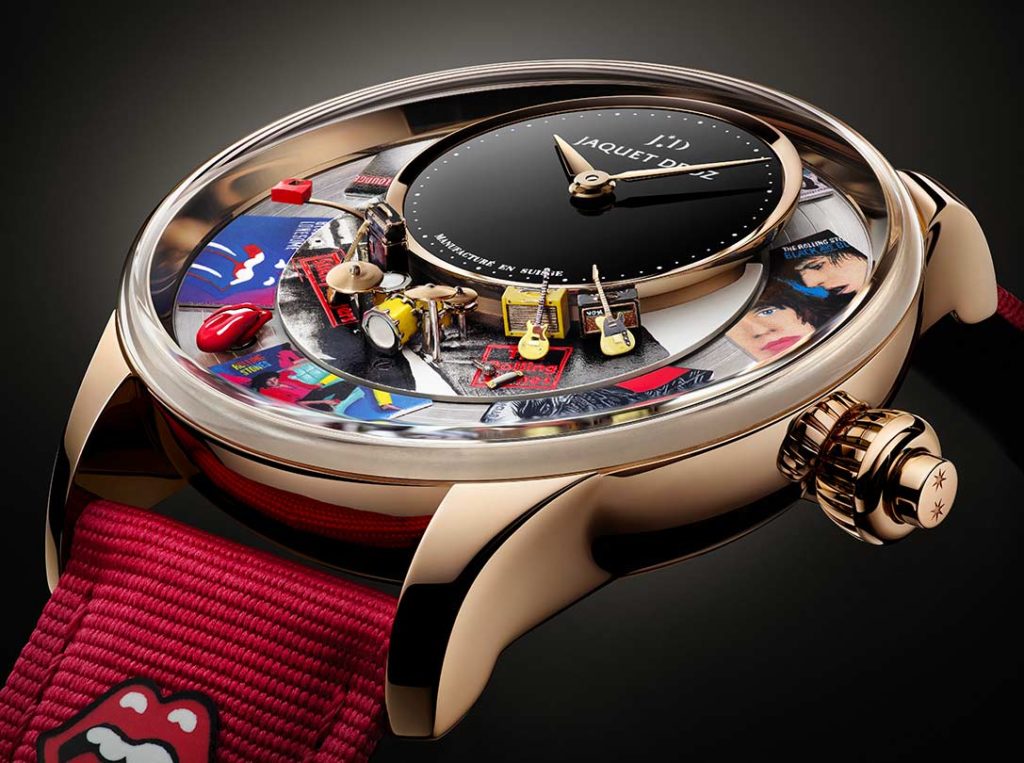 There are pieces that, from the very first notes, give you a thrill, projecting memories of a unique moment, shared with friends at a concert or solo at home, with your eyes closed to the sound of the lyrics, guitar chords and rhythmic percussion. Jaquet Droz brings us back to this nostalgic music lover's world with its new masterpiece, The Rolling Stones Automaton, for lovers of the legendary British rock band born in the 1960s.
Miniaturized like a dollhouse but without the red-cheeked figures, the central set evokes the installation of Mick Jagger's and his band's musical instruments on the stage of a concert hall, before the artists enter, before the crowd arrives. Guitars, amps, drums, harmonica: everything was sculpted in red or white gold before hand painted. No mosh pit here, but a rhodium-plated brass ring, grooved like the surface of a record vinyl, that moves on demand by pressing the push-button nestled in the crown at 3 o'clock. Six album covers appear on this moving dial, to be chosen from a collection ranging from the mythical "Sticky Fingers" (1971) to the recent "El Mocambo" (2022). At 9 o'clock, the famous "Big Mouth" with its tongue out comes to life, while at 10 o'clock, the power reserve indication (which amounts to 68 hours like the majority of Jaquet Droz watches) is embodied by the reproduction of the bended arm and the diamond stylus present on a record player. At the heart of the 43mm-diameter red gold case beats the automatic 2653 AT2 caliber, which incorporates a hand-wound automaton mechanism and drives the lancine-style hour and minute hands on the black onyx off-centered dial at 12 o'clock.