HIGH PERFORMANCE
For its first in-person participation at the Watches & Wonders Geneva exhibition, the brand is outperforming contemporary watchmaking with this daring new product designed for excellence.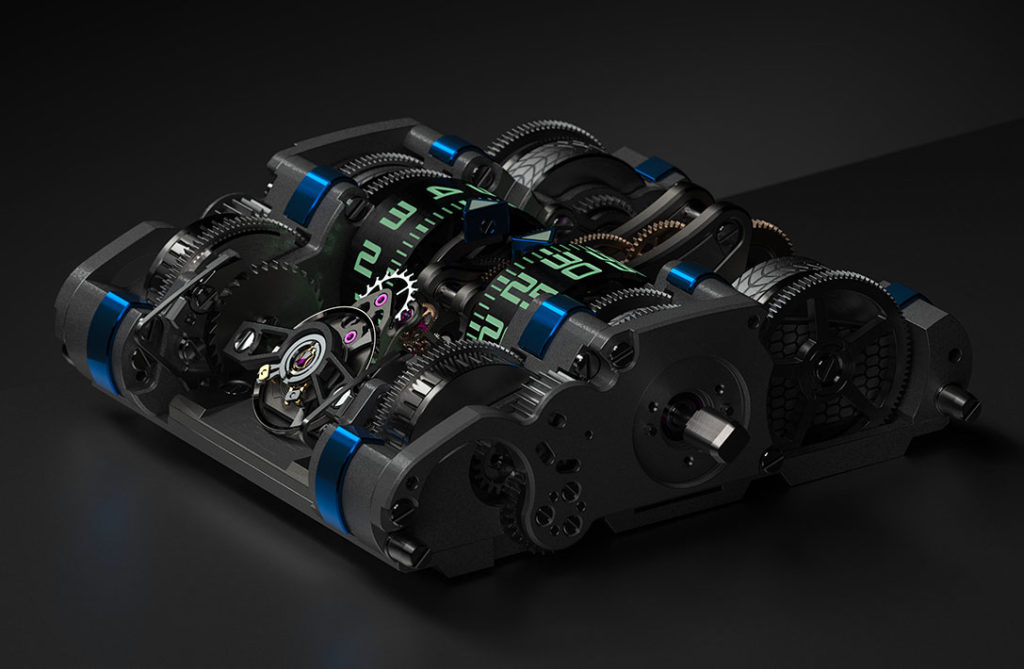 In 2010, the T-1000 watch shattered traditional conventions with an imposing case incorporating an inclined double-balance caliber with a record power reserve of 1,000 hours. This year, Rebellion is proving that its ability to innovate is very much alive and well with the T-500 watch. The recipe remains the same: a case with a racy design of 43x47x11mm, together with a manual winding mechanism featuring an exceptional autonomy of 450 hours!
Under the domed sapphire crystal, a stunning display is revealed. The mechanism finalized by Concepto comes to life thanks to a total of 380 parts. As with the T-1000, the hours and minutes are again displayed on two parallel rollers. In addition to its extraordinary power reserve, the caliber also boasts greater precision than its illustrious predecessor thanks to the frequency of its balance, which rises to 28,800 oscillations per hour. The eloxed movement case comes in a choice of five colors: blue, red, green, orange, and black. Its presence enhances the futuristic look of the titanium or black diamond light coating (DLC) titanium case. As for the six cylinders, they are recharged with energy by means of a lever. Each is decorated with a tire etching evoking the strong link between the brand and motor racing. For the record, Rebellion was the only watchmaker to own an endurance racing team for over a decade. This year the company is a partner of the Alfa Romeo F1 Orlen team.