SNOOPY & FRIENDS
Always true to the creativity and quirky spirit that have made its success for nearly 40 years, the Biel-based brand has joined forces with the cult comic strip featuring Snoopy and his gang of friends to unveil a collection of six colorful watches.
Almost two generations separate them, since one made its first appearance in October 1950 and the other was officially presented in March 1983. And yet the meeting between the world's most famous comic strip led by Snoopy and the creative watchmaking giant known for its offbeat models is as obvious as it is harmonious. This collaboration, warmly welcomed by both Swatch and the little black and white beagle aficionados, is embodied by a collection of six Swatch x Peanuts watches, one of which is also exists in a 2.10m XXL version to hang on the wall.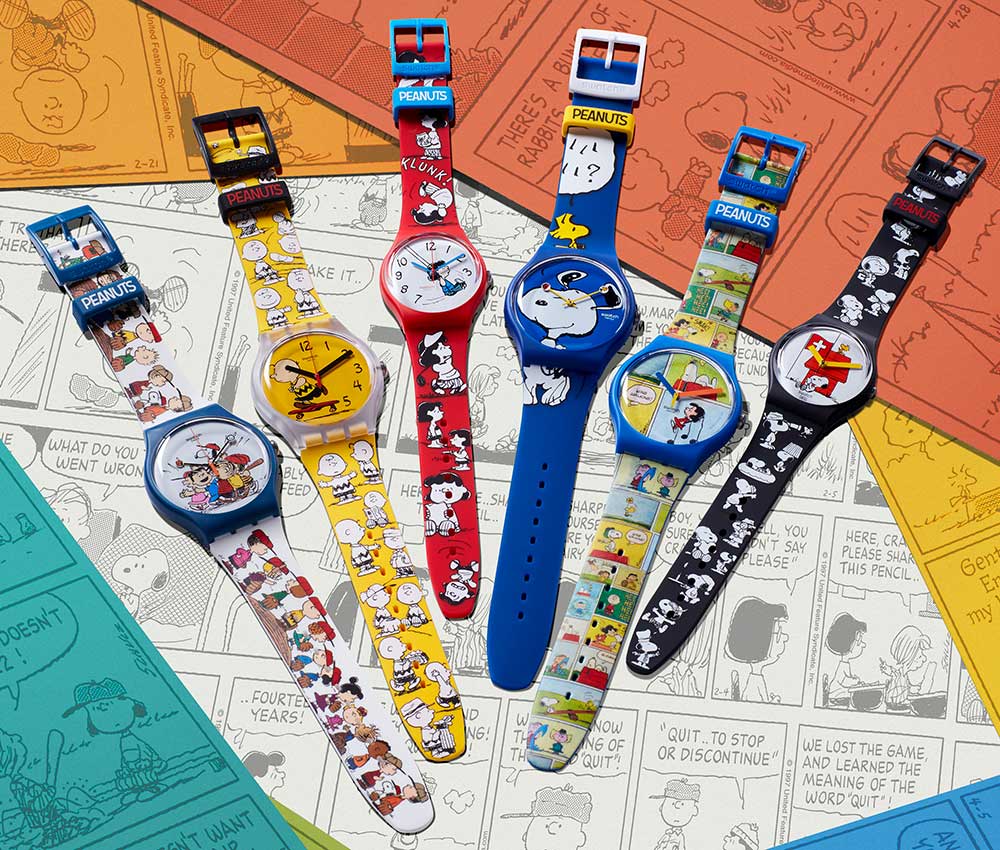 For this new range, two sizes of 9.85mm thick cases are available: 34mm in diameter for two Gent references and 41mm for four New Gent models, all made from bio-based materials introduced by Swatch in September 2020 with the 1983 series. These are made from castor seed extracts and packaged in FSC® cardboard cases in keeping with the Biel-based brand's desire to be as eco-friendly as possible. The bracelets are made of soft silicone that is pleasant to the touch and to wear, and are equipped with hard plastic buckles.
Each watch has a different color and features one or more characters gathered in a band, with a multitude of small details that make you smile. Snoopy and his best friend Woodstock, the little yellow bird, appear on two models, Grande Brachetto in black and white with the famous red doghouse and Swiss flag drawn on the dial and Hee Hee Hee dominated by an intense blue, while the effigies of Charlie Brown and Lucy appear solo on two other pieces.
Price: CHF85 (Gent model) – CHF100 (New Gent model)
By Sharmila Bertin