When transparency becomes art.
Although the first wristwatches featured non-tempered mineral glass, as the 1930s came around, watches were covered with acrylic alternatives that were less vulnerable to shocks, yet not to scratches. The Seventies, which rhymed with technical progress, brought new opportunities. Crystal boasted hardness of some 400 Vickers. The industrialization of synthetic sapphire crystal, fruit of an invention patented in 1902 by French chemist Auguste Verneuil (1856-1913), led to unprecedented possibilities. Extreme resistance was the watchword: 1,800 Vickers. Henceforth, this material would protect the dials of our precious timepieces and could be flat or domed and up to 14.3 mm, as seen in Rolex's Deepsea Challenge. Its presence on casebacks was an invitation to admire engineering magic. Technology would also go on to render it tactile.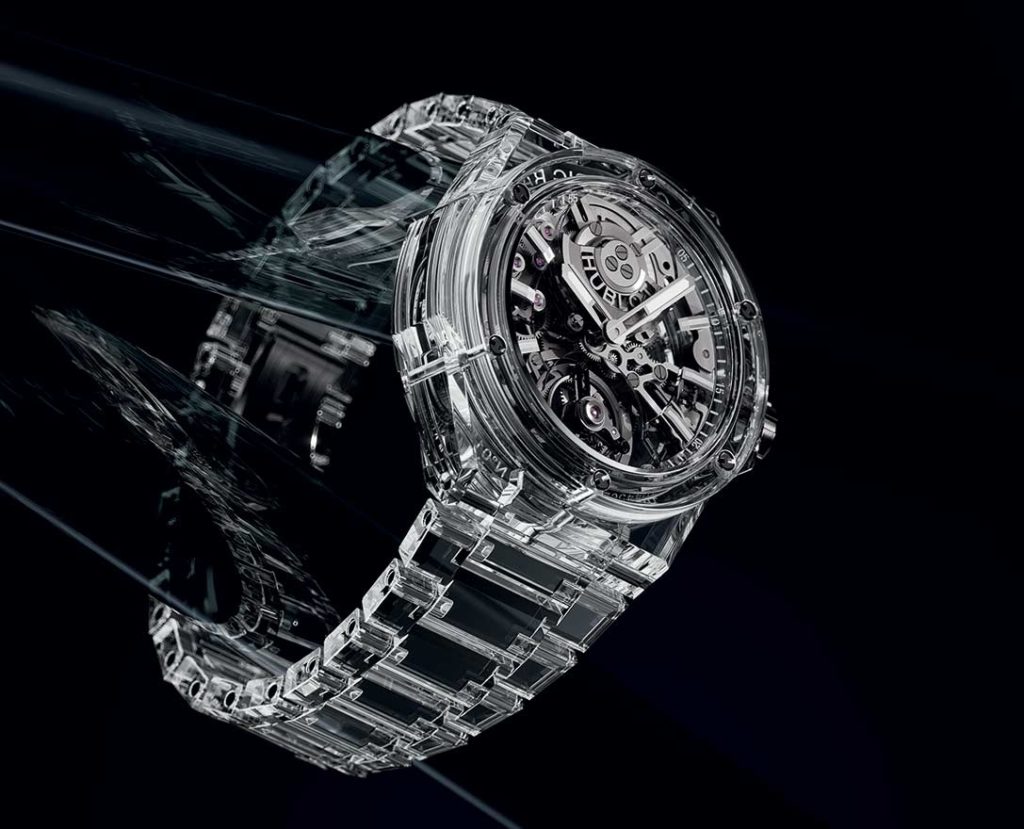 Towards the end of the first decade of the 20th century, mastering sapphire crystal production and crafting would become strategic. Being able to propose other options than steel to stand out in a competitive watchmaking world became a 'must'. CNC tooling and milling centres, equipped with diamond-tipped engraving tools, would machine sapphire crystal blocks to give them the shape desired. In 2010, MB&F showcased its creativity with its Horological Machine No.2 Sapphire Vision. The entire top part of the translucent case centre staged the movement of this futuristically-designed series. Since then, this material has taken on a variety of concave profiles in the watches the Geneva-based brand has presented. In 2012, Richard Mille's RM 056 excelled with its case sculpted directly from a solid block of sapphire crystal which required 1,000 hours of machining. A year later, the firm's RM 56-01 went beyond the limits. 90% of the components of this piece were crafted from synthetic sapphire crystal. Light reigned everywhere supreme.
As for Hublot, "making the invisible visible" would become a leitmotif. The impressive case of its MP-05 LaFerrari offered a 360° show of the calibre imagined like a GT engine. Its Big Bang Integral Tourbillon Full Sapphire (2021) placed the accent on total transparency as its bracelet was also fashioned in sapphire crystal. More than ever, this material would play a role in the design of highly-collectable limited-series creations. How could anyone not be tempted by Zenith's Defy Zero G and Defy 21 Double Tourbillon?
Colour now called the tune of the times. Sapphire crystal would adorn bespokeness. Transparency was no longer colourless! It was infused with blue and pink on the pieces of Richard Mille's RM 07 collection. Other rainbow hues bedecked Hublot's Spirit of Big Bang Yellow Sapphire and Tourbillon Automatic Orange Sapphire as well as Rebellion's RE-Volt Sapphire Red. Sapphire crystal is also great at keeping secrets and weaves its way into movements. The most well-known of them all drives the "Mysterious" complication, Cartier's preserve. The hour and minute hands seem to defy the laws of gravity. They are set on two sapphire-crystal discs decorated with serrations around the edges. Chopard chimed a totally different melody. In its L.U.C Full Strike (2016), sapphire-crystal gongs rang out the hours, quarter-hours and minutes. More than ever, sapphire crystal dazzles our senses!