PRECISION AND STRENGTH
This edition, limited to 50 units, retains the original architecture inspired by the world of aeronautics, with a colored aesthetic that reinforces its sporty look.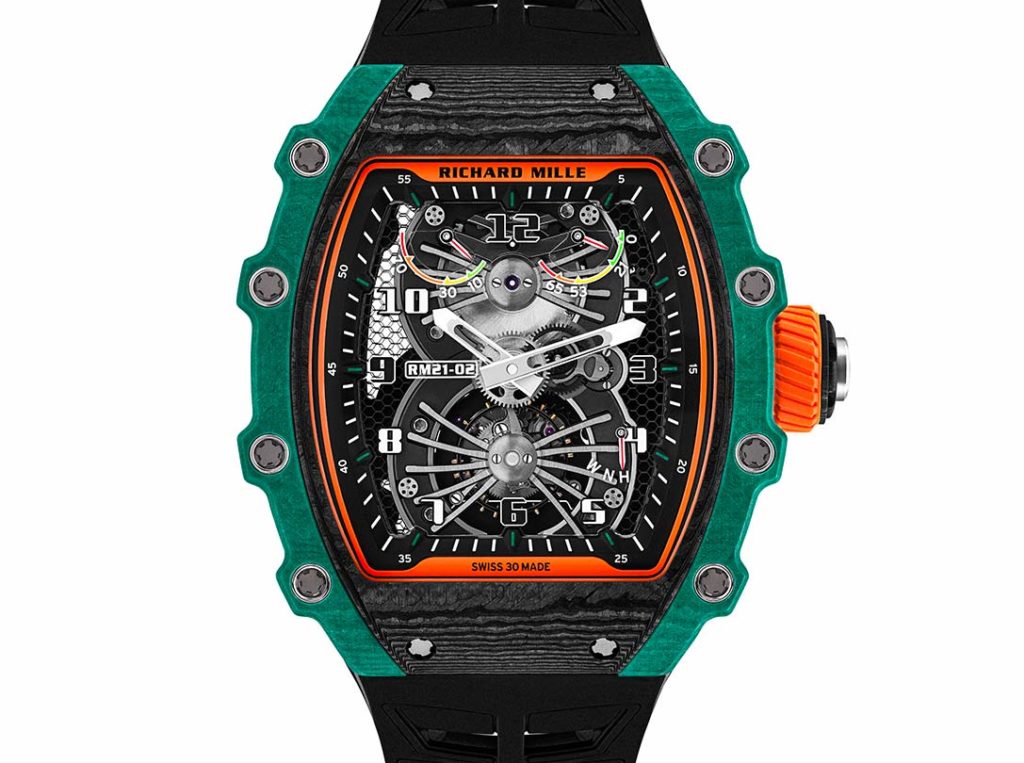 The choice of the latest material in the design of the watches, including the caliber, is an integral part of the Richard Mille DNA. In 2021, the watchmaker unveiled the RM 21-01 Tourbillon Aérodyne. While the shape is easily recognizable as the basics of the Les Breuleux watchmaker, one must look at the technical data sheet to discover the novelties. For the first time, the Haynes® 214® is used to machine the plate of the manual winding movement. This alloy of nickel, chromium, aluminum, and iron offers outstanding resistance to corrosion, even at extreme temperatures. For this major first, the high-tech material combined with TPT® carbon featuring a honeycomb pattern provides exceptional rigidity, torsional endurance, and a low expansion coefficient. This is the structure behind the RM 21-02 Tourbillon Aérodyne.
While the original design has been retained, Richard Mille decided to go for a new case made of green TPT® quartz, TPT® carbon and titanium. The latter protects the temporal information, the duo of hour and minute hands, as well as the power reserve indicator of approximately 70 hours, the torque indicator providing information on the tension of the barrel spring, and the function selector located at 4:30, which specifies the chosen mode (winding, neutral, setting the time) using the push-button integrated into the crown. An aerodyne refers to any device whose lift is obtained by means of aerodynamic forces. Of course, the RM 21-02 cannot escape from gravity, yet its technical characteristics give it the possibility to soar above the watchmaking universe.