PLAYMAKER
To mark the presentation of the brand's new ambassador, a special edition was designed in a festive look. The colors of his native country energize its offbeat design.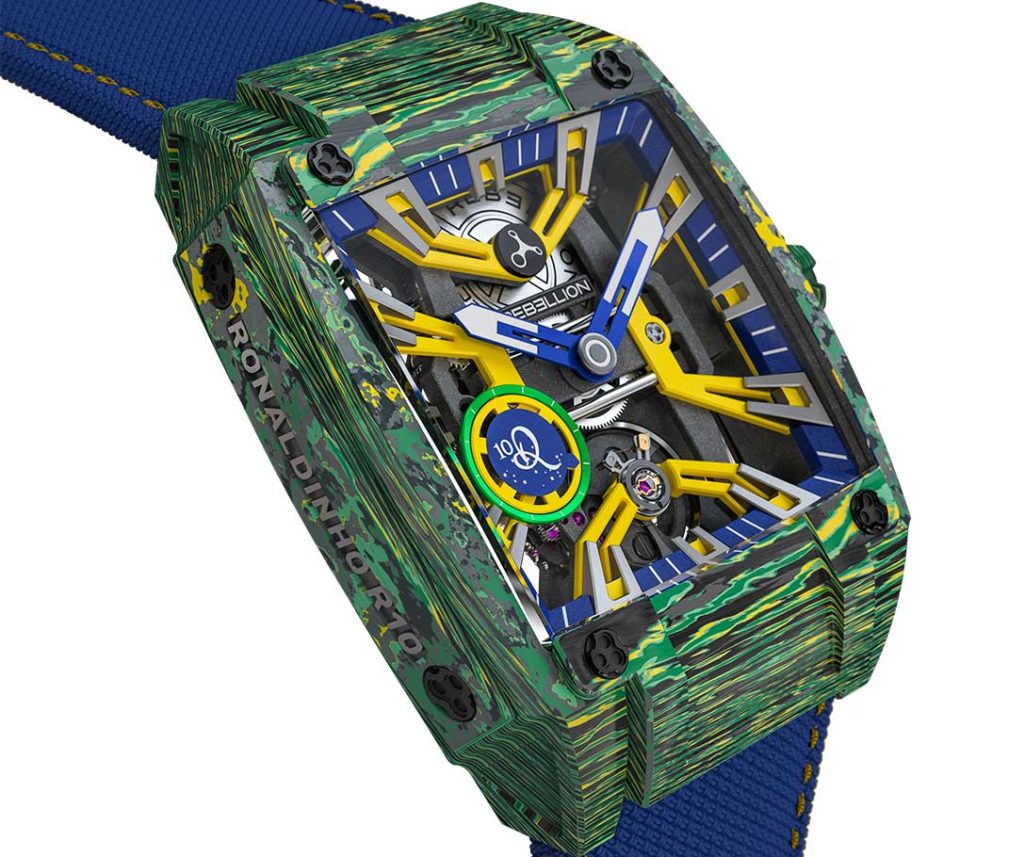 A thing of beauty and the art of the movement are inseparable in the game of soccer, according to Ronaldinho. The same values behind his uncompromising character are shared by Rebellion Timepieces. In celebration of the arrival of its new brand ambassador, the disruptive watch maker created a timepiece in the Brazilian star's image. Recapturing the architectural lines of the iconic RE-Volt model, this limited edition proudly bears the bright colors of the Brazilian flag. Its 40.35 x 38.5 x 13.5 mm colored carbon case combines black touches of high-tech material with yellow and an omnipresent green, symbol of the Amazonian Forest. The solar hue evoking the richness of the country's soil decorates, among other things, the bridges and markers. As for the color blue, that of an ideal cloudless sky that could darken one's daily life, it completes the sporty setting of the RE-Volt Ronaldinho. This blue accentuates the timer, the textile wristband closed with Velcro®, and the small seconds hand decorated with the emblematic R10, in a nod to the number worn by the world champion during his professional career.
As with all RE-Volt models, this series is powered by a hand-wound movement developed and assembled in-house comprising 165 components. It precisely synchronizes the revolutions of the hour and minute hands while providing a power reserve of 48 hours. On the back of the case, the soccer player's signature underscores the exclusive character of the timepiece.