SHADOW AND LIGHT
At the time of the Mayas, every eclipse was marked by a grand ceremony. This astronomical phenomenon is brought to life in an exclusive timepiece presented during the SIAR, the Mexican watchmaking trade show.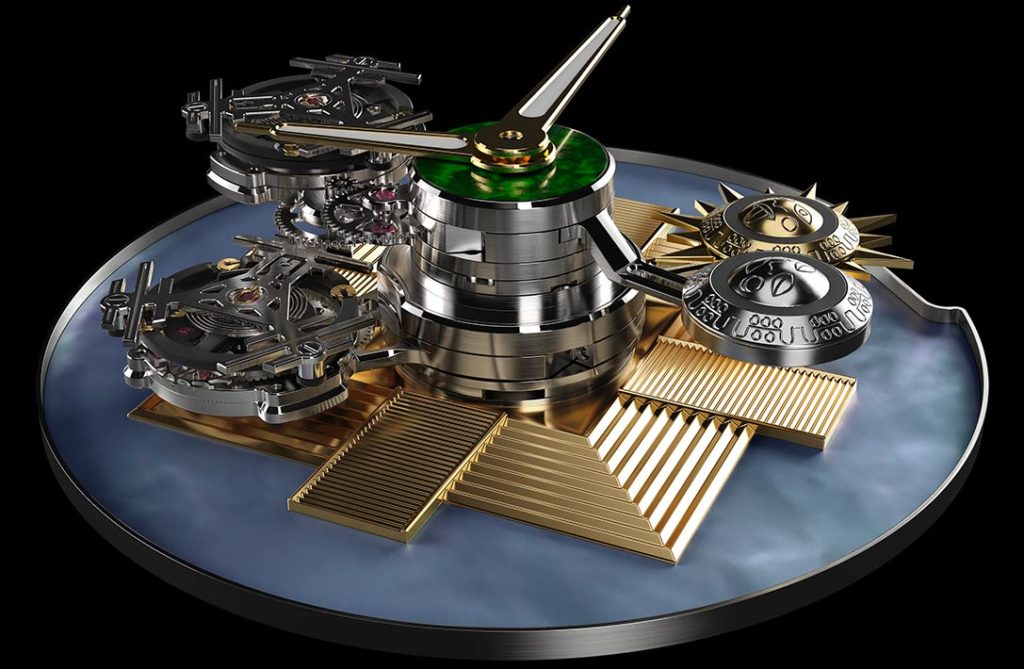 A great deal of mystery surrounds the Mayan civilization. Why did they adopt two calendars, one of 365 days, the other of 260. What role did the pyramids play? How were they able to learn so much about the cosmos? These fascinating enigmas continue to captivate to this day. It is known, more or less, that the stars, religion, and politics were deeply entwined. To pay tribute to the mathematicians and architects of the Mesoamerican people, Louis Moinet invited a young jeweler, Nathanaël Schaller, the national recipient of the French Craft Prize in 2020, to collaborate on the creation of a unique timepiece, the Maya Eclipse. The work of the talented artist unfolds on a tinted mother-of-pearl dial. The multiple shades of color achieved create a vaporous pattern on which a pyramid of rose gold applique seems to float. From a subtle interplay of light and shadow emerges a scenography all in relief, representing the Kulucán Temple seen from the sky.
At the apex of this construction, finished with a clever guilloche geometry, is the upper part of a surprising caliber, the LM105, equipped with two satellite tourbillons. This pair features the original characteristic of rotating both clockwise and counterclockwise, completing one revolution in 5 and 10 minutes respectively. One bears a counterweight in the shape of the sun, the other in the shape of the moon. Every day, the two celestial bodies overlap 18 times, creating a dreamlike eclipse. To reinforce the exclusive aesthetics of the timepiece, the complex hand-wound movement is housed in a refined 43.5mm diameter rose gold case. The secret is well kept.