A NEW STANDARD
The Legacy Machines produced by some of the world's most famous watchmaking friends are gaining in robustness thanks to welcome mechanical enhancements, adapting to all everyday conditions.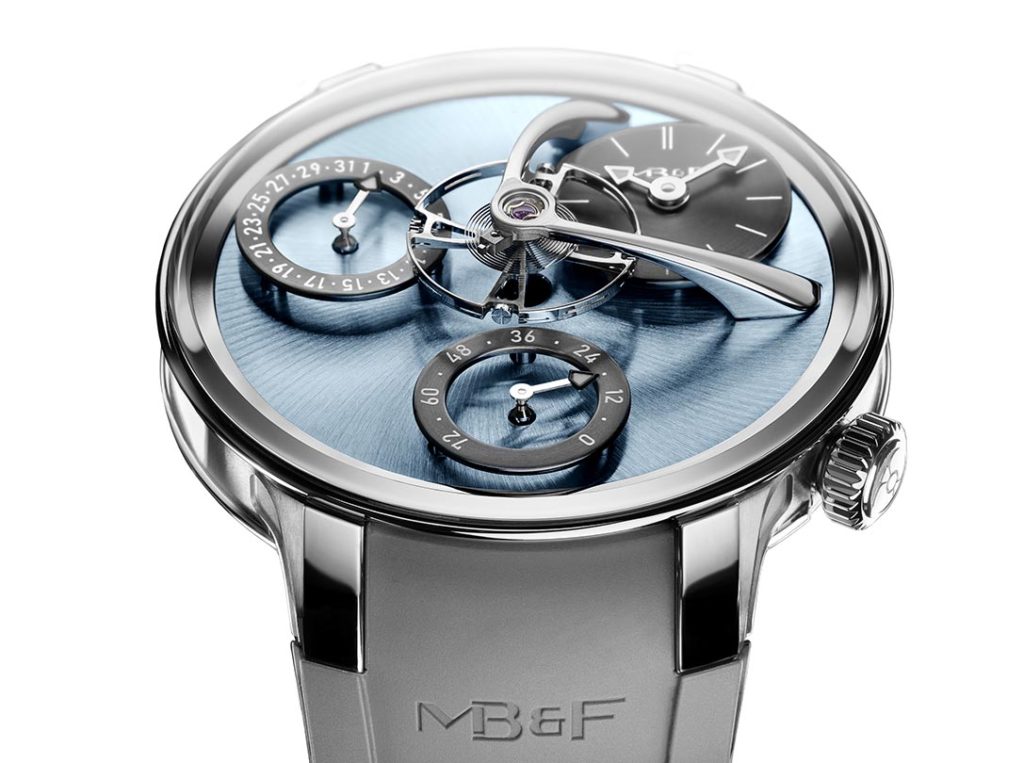 From now on, all MB&F watches stamped with the EVO acronym share common features. Launched in 2020 by the LM Perpetuel, this defines a strengthening that enables timepieces to match any lifestyle, even the most dynamic. For this, the models are built using a case that is waterproof to a depth of 80 meters. They also feature a screw-down crown, integrated rubber wristband, SuperLuminiva® enhanced time display, and bezel-less construction. The movement itself is also suspended using the FlexRing system to absorb shocks. It is therefore only logical that these distinctive properties should be featured on the Legacy Machine Split Escapement EVO.
It was introduced on the occasion of the 50th anniversary of the United Arab Emirates and sold exclusively in the brand's Dubai boutique. The model, with its new look, an iceberg-blue plate and anthracite sub-dials, is sold in all other outlets. A 25-piece limited edition, the LM Split Escapement EVO Beverly Hills Edition, pairing black with blue, is reserved for the upcoming Los Angeles boutique. Regardless of the finish, the Legacy Machine Split Escapement EVO displays the hours and minutes, the date, and the amount of energy still available out of the possible 72 hours in dedicated off-center positions. All this information is orchestrated by the hand-wound caliber equipped with a suspended balance, integrated into a 44mm diameter titanium case. Now more than ever, at MB&F, mechanical performance is at the service of style!