DIAPHANOUS STAR
The highly exclusive Interstellar series awakens the stars by projecting the Parisian brand's watch collections, including its famous sporty watch, into a "spatio-poetic" dimension.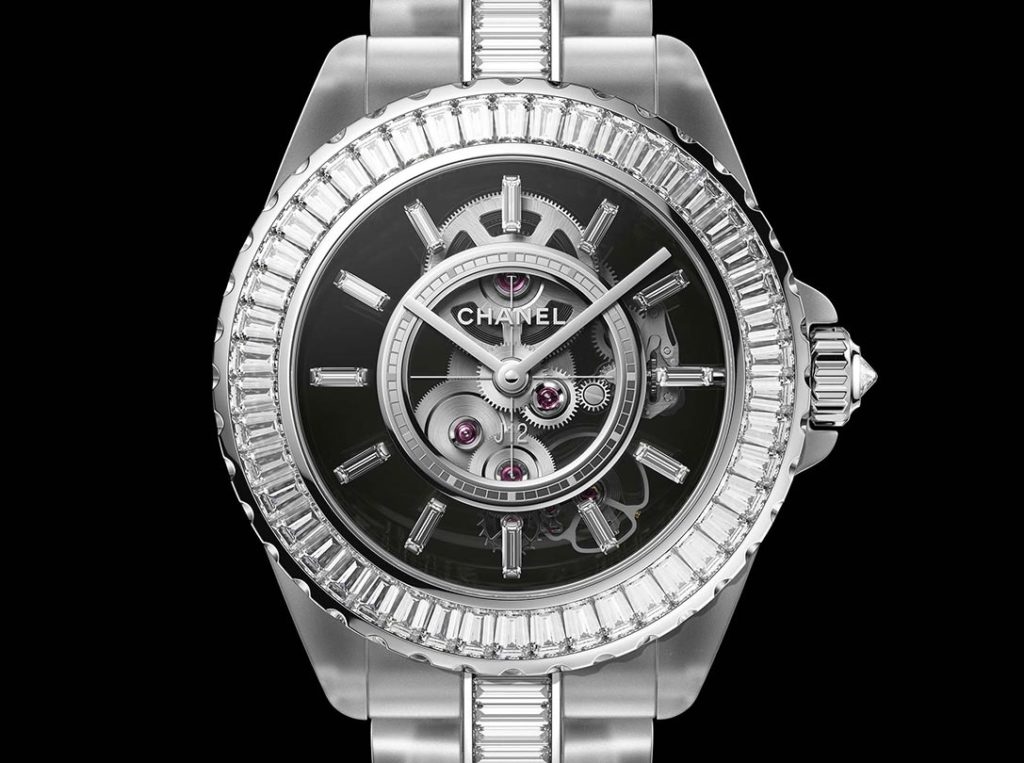 The charm of the cosmos, the infinite lyricism of the stars and the sphere of science fiction are the inspiration behind the Interstellar capsule, a series of exclusive editions of watches imagined by Chanel and drawn from its emblematic collections, including the J12. Following the "spatio-poetic" symphony orchestrated by the Parisian house's Studio de Création Horlogerie, the famous model designed in 2000 by then Artistic Director Jaques Helleu, sports a diaphanous gown like the lactescent glow of a star and light as a feather delicately carried through the air by the breeze. Its name says it all: J12 X-Ray Star.
Frosty as a winter's morning, the sapphire crystal that shapes the 38mm-diameter case is accompanied by a few touches of white gold. The immobile bezel is covered with a precious band of 46 baguette-cut diamonds (approx. 5.46 carats), while the crown is adorned with a brilliant. On the dial's transparent disk, also in sapphire, the hour-markers set with 12 baguette-cut diamonds draw a solar silhouette, radiating from the silvered central ring on which the minute track is engraved. They seem to open the doors to a mechanical universe of cogs and wheels.
The beauty of the caliber 3.1, a hand-wound movement manufactured by Chanel, shines through the face of this J12 X-Ray Star. Graphic lace, punctuated by machined sapphire elements, it brings to life the hours and minutes indicated by two rhodium-plated baton-style hands and delivers around 55 hours of power reserve. Like the case, the bracelet links also feature the same frosty spirit, with a cap lined with 138 baguette-cut diamonds (approx. 10.15 carats).