A MODERN DANCE
A joyful dance of random movements: diamonds bounce freely, following the gestures of the wrist, on the diaphanous, sometimes slightly tinted face of the new watch series imagined by the Geneva-based brand.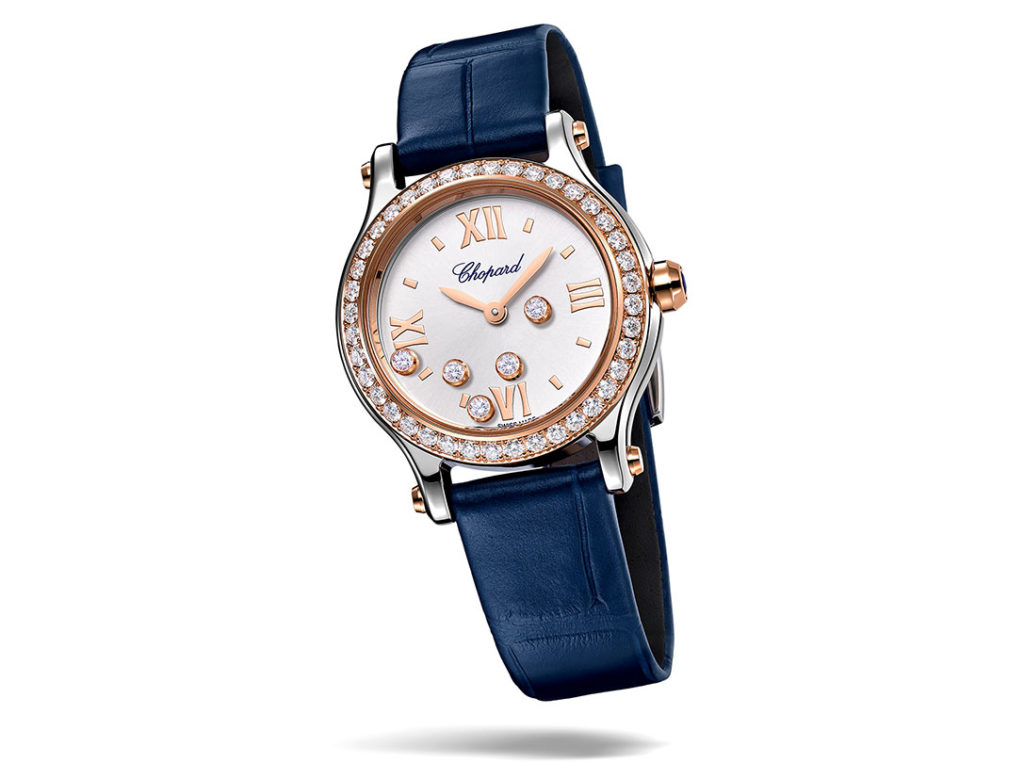 The sinuous loops time creates in a joyful dance of free, random gestures, twists and turns with lyrical accents. This, in a nutshell, is the raison de vivre of the Happy Sport watch, designed in the 1990s by Caroline Scheufele, co-president of Chopard. Time is in constant motion, of course, so why should the display remain static? The time is a testament to the passage of time, so why not make it a moment of pure gaiety? Time is an exact, serious science, so why not turn it into a playful, smile-inducing everyday companion? Last spring saw the birth of a version with smaller dimensions, a timepiece that can be attached to the wrist like a faithful friend.
Chopard
has designed a series of watches in seven variations. They feature a case 25mm in diameter and 8.7mm thin, forged in Lucent SteelTM, the exclusive metal alloy developed from 70-80% recycled steel, more resistant and luminous than traditional steel, and sometimes combined with touches of ethical rose gold. The sunray-finish dial is tinted silver-white, baby blue, candy-pink or soft green, with five diamonds dancing on it, flying above four Roman numerals and eight hour-markers, rhodium-plated or gold-plated depending on the version chosen. The hours and minutes are indicated in the center by a pair of glaive-type hands driven by a quartz movement. Happy Sport models in polished metal are worn with a long calfskin strap in navy, plum or emerald, which can be double-turned to wrap around the wrist, while models with diamond-covered bezels are complemented by a midnight-blue alligator skin strap.