EXTRATERRESTRIAL ORIGIN
Finding a meteorite is like looking for a needle in a haystack. It's better when it falls into the right hands, like those of the craftsmen who have given life to this watch.
Are you looking for an elegant watch with a unique dial? The Piaget Altiplano Meteorite will be officially launched at the next Salon International de la Haute Horlogerie in Geneva in January 2019. It has all the attractions you could wish for. Its slim 40mm-wide gold case houses a surprising stone disc that fell out of the sky. That it to say, the dial is cut from a fragment of grey meteorite. The disc has an unusual texture, known as a Widmanstätten pattern, named after the Austrian scientist who identified it in the 19th century. The texture contains oblique stripes set close together and indicating a high amount of iron and nickel alloy that has been heated to extreme temperatures of over 1,000 C° and was then suddenly cooled down. It takes great dexterity to cut out the dials. The result is always highly individual, making each one of the 300 watches in this limited edition truly unique.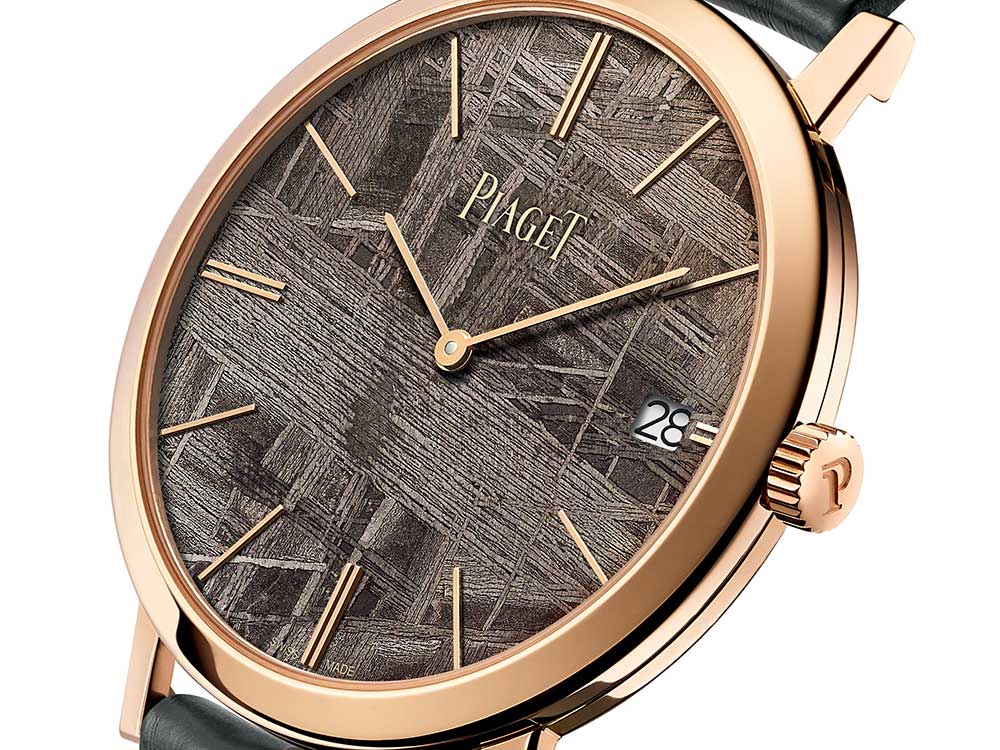 In this decor of unvarnished elegance are placed some delicate gold indices, with slim hour and minute hands. Only a counter at 3 o'clock is cut into the surface of the piece of meteorite. The watch is powered by an extra-flat automatic movement. The calibre 1203P will keep the time information running for 44 hours, along with the date.
The Piaget Altiplano Meteorite comes with a grey alligator leather strap equipped with a rose gold tang buckle.
Price on request
By Dan Diaconu