THE H-SIGNAL WATCHES OVER PARIS
Once again, the trend is towards pop and fantasy at the Parisian fashion house. This new limited series brilliantly portrays its resolutely offbeat equestrian universe.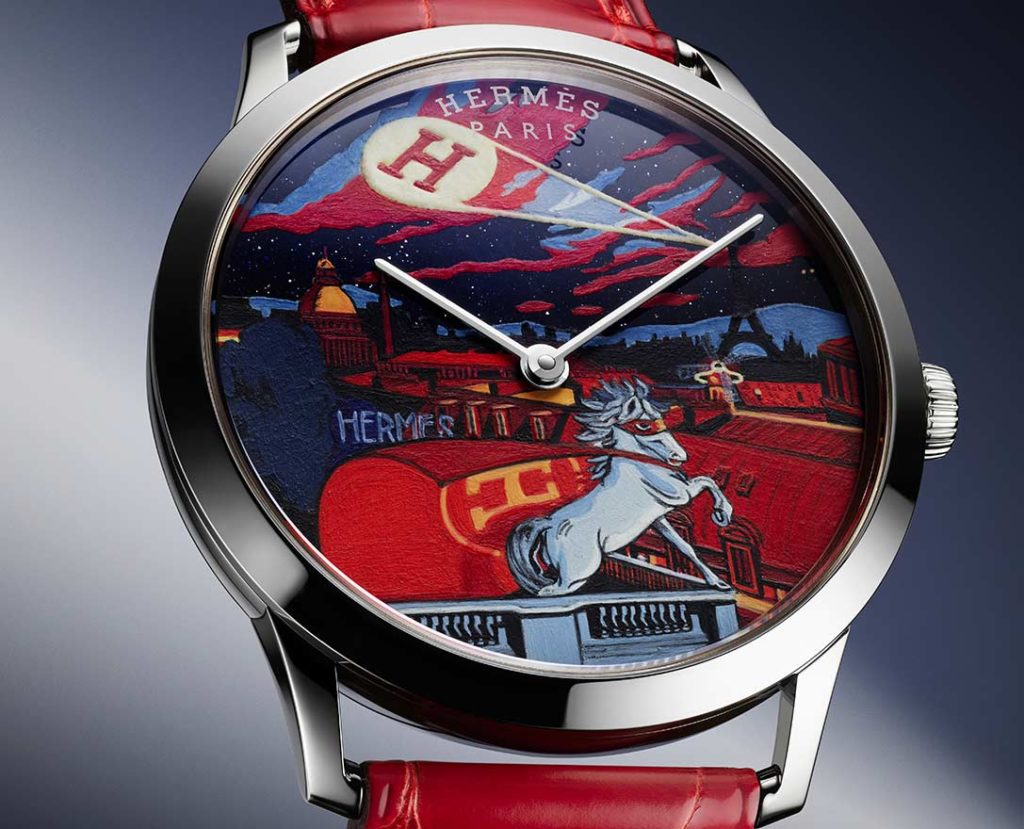 How can one not draw inspiration from the City of Light? Paris and its monuments provide the backdrop for numerous adventures. For Hermès, it is here that its hero Super H keeps watch over the Eiffel Tower, the Invalides, the obelisk on the Place de la Concorde, and across the rooftops of the French capital. This theme has its origin in one of the saddler's silk scarfs, Minuit au Faubourg, designed in 2014 by Dimitri Rybaltchenko. The graphic designer repeatedly illustrates with beautiful colorful creations. In keeping with its dreamlike setting, each dial is entirely hand crafted, requiring 50 hours of work. The masked horse takes its place in a micro-painted scenography, enhanced by a sky studded with aventurine. An appropriate use of Super-LumiNova®, notably on the beam of light projecting an H and on the horse's coat, adds relief to the composition of the Slim d'Hermès Minuit au Faubourg watch.
This special edition, limited to only 24 examples, is crafted in a white gold case measuring 39.5mm in diameter. Like a steady trot, the hour and minute hands proceed with rigor and precision. This duo is powered by the manufacturer's extra-flat caliber H1950. The self-winding movement delivers the watch 42 hours of power reserve. As with the Parisian house's timepieces, the Slim d'Hermès Minuit au Faubourg is worn on a leather wristband, in this case carmine-colored alligator, a shade ideally coordinated with the dial hues. There is also a second variation available in blue. Elegant and cheerful.