A BREATH OF FRESH AIR
Captivating design, high-performance Swiss Made mechanism, attractive price… The brand seems to have cracked the formula for success. This new version brilliantly applies the rule of 3.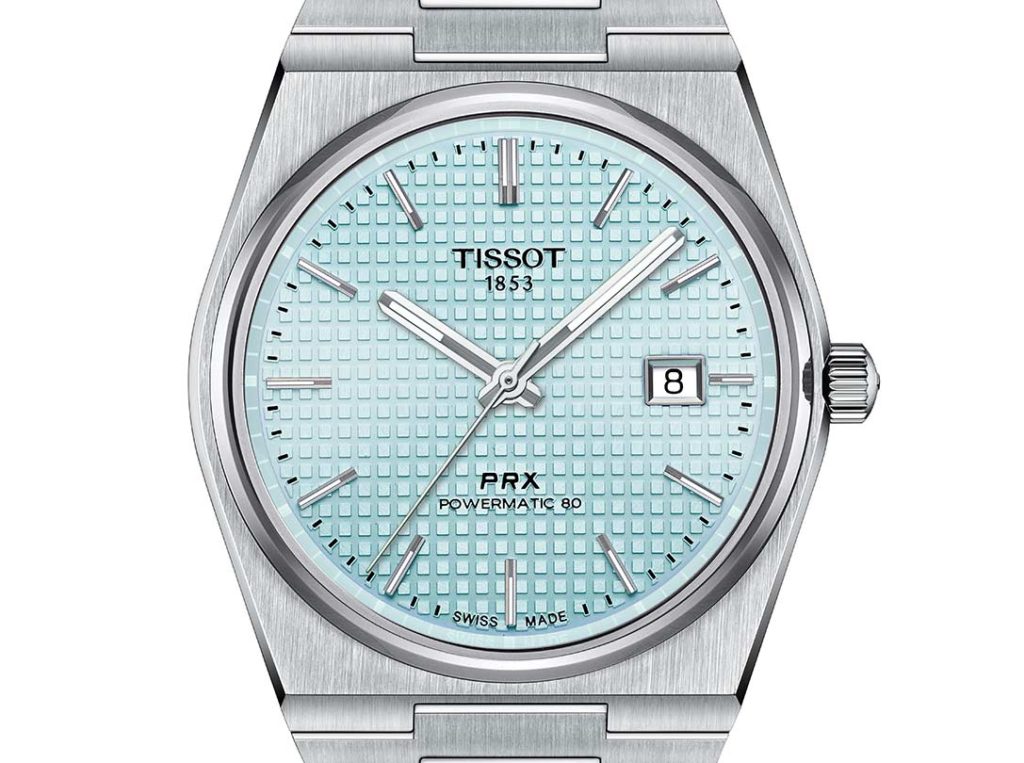 With the launch of the PRX Powermatic collection in 2021, Tissot once again confirms that less is more. Adopting the iconic, updated lines of the 1978 model, each sporty chic reference packs a strong seductive punch. The latest PRX Powermatic Ice Blue does not fail to deliver. Thus, its 40mm diameter 316L steel case with its satin finish, combined with an integrated wristband machined in the same metal, shelters a dial devoid of any numbers. Its strong points lie in its highly graphic checkerboard pattern and its hypnotic ice blue color. This setting enhances the appeal of any wrist in search of a watch that is both elegant and casual.
As with the previous unveiled references, this timepiece is also associated with the acronym PRX. The initials PR emphasize that this model is "Precise and Robust". The inclusion of the Powermatic 80 caliber plays its role to perfection. This self-winding movement, equipped with a NivachronTM balance spring fully impervious to the negative effects of magnetic fields, delivers a comfortable power reserve of 80 hours, equal to more than 3 days. The X indicates that the barrel-shaped case is guaranteed to be water-resistant up to 10 bars, i.e. 100 meters deep. It is worth noting that the presence of a sapphire crystal enables the oscillating weight and some of the mechanism's workings to be seen. With all these advantages, the PRX Powermatic Ice Blue is an ideal versatile watch to be worn in all circumstances.