A LANDMARK COMPLICATION
In Geneva, during the 2022 Watches and Wonders exhibition, the brand unveiled this novelty with an amusing presentation of the date that can be rapidly read.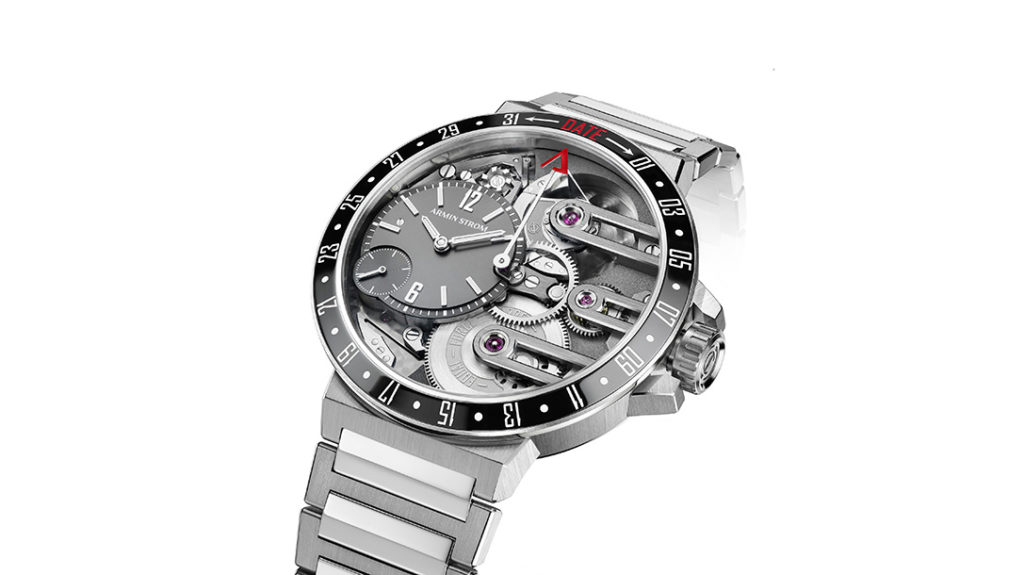 With its Orbit watch, Armin Strom created an alternative to the traditional date displayed in a window. The hours and minutes are shown on an eccentric disc within a setting giving pride of place to the mechanics due to the absence of a dial. In this flagship complication, the date is actuated by a column wheel, a component used on prestigious chronographs to coordinate the various movements. This timepiece features a central hand tipped with a stylized A pointing to a graduated scale from 1 to 31 engraved on the black ceramic bezel.
Two different modes are available to the owner of the watch. During the first mode, referred to as stationary, the hand points to the word DATE in red at 12 o'clock. The second mode is activated by pressing the button at 10 o'clock. The hand then points to the number of the day of the month. One more push and the indicator returns to its original position. A retrograde mechanism enables the hand to go from 31 to 1, thus avoiding any confusion with its position when it is in static mode. All of the information is powered by the ASS20 caliber. This micro-rotor self-winding movement stands out by virtue of its erudite architecture. A large Maltese Cross equal force cylinder, found on the Gravity Equal Force model, distributes energy evenly over a 72-hour period. Its rotation is limited to 9 complete revolutions out of a possible 12.5 to ensure optimal performance. This mechanism is housed in a 43.4mm diameter steel case combined with a wristband machined from the same metal. Exclusive in more ways than one, the Orbit in this configuration is only available in 25 examples.