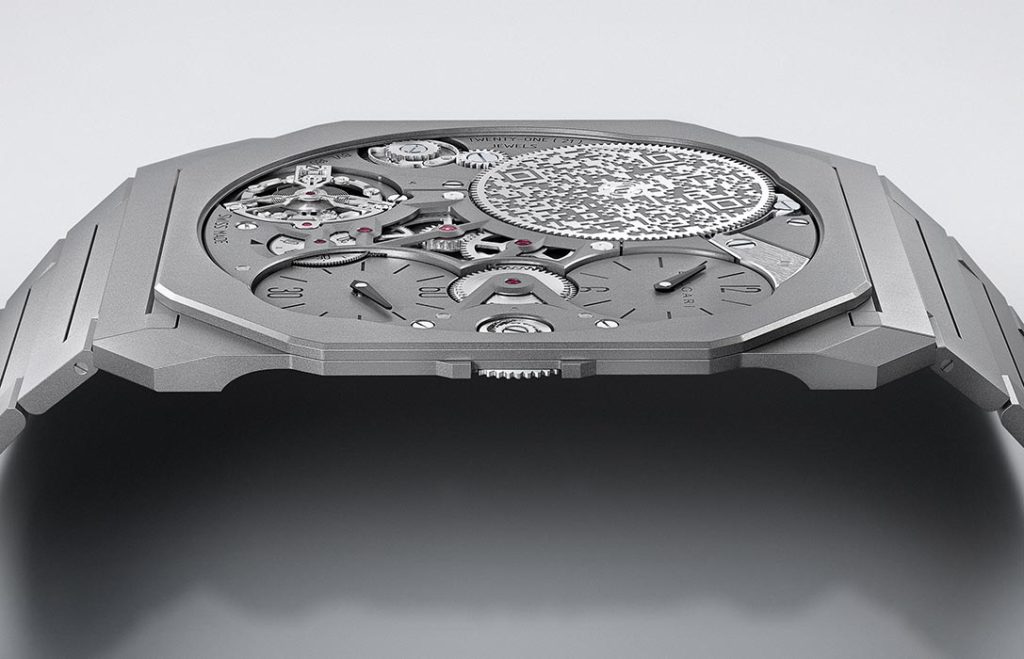 Records are made to be broken! For the past ten years, Bulgari has been placing its exclusive expertise at the service of bold watchmaking. Developed out of the Octo watch, the Octo Finissimo collection is constantly pushing back the limits of extreme thinness. It all began in 2014. The Octo Finissimo Tourbillon Manuel hit the headlines with its BVL 268 calibre: just 1.95 mm thick, fitted into a case 5 mm high and 40 mm in diameter. Two years later, the Octo Finissimo Répétition Minutes won great acclaim. This timepiece, with its acoustic complication, is no more than 6.85 mm thick, thanks to its 3.12 mm high manually wound movement. From then on, year by year, the manufacture came forward with further proof of its ability to entrance watchmaking circles. Each of the watches unveiled in this way shares the same DNA, as well as the specific design centring on an octagonal case surmounted by a round bezel.
In 2017, the Octo Finissimo Automatique became the world's flattest automatic watch at just 5.15 mm. The next great work, the Octo Finissimo Tourbillon Automatique, set a new record in its category with its extraordinary thinness of no more than 3.95 mm! Presented in 2019, the Octo Finissimo Chronographe GMT Automatique model is nothing short of a superb union of ingenious mechanical creativity and aesthetic success. Its 42 x 6.90 mm case houses an exceptional 3.3 mm calibre fitted with a micro rotor.
With the Octo Finissimo Tourbillon Chronographe Squelette Automatique, Bulgari has broken its sixth record. All the functions are united in an ultra-flat movement and a 7.4 mm titanium case. In 2021, the BVL 305, at a height of 2.75 mm, orchestrated the time data displayed on the Octo Finissimo Calendrier Perpétuel. Its height? 5.80 mm! This year, the Octo Finissimo Ultra is a masterly illustration of this prodigious mechanical adventure, thanks to a case that is just 1.80 mm thick!