THE WORLD IN COLOR
This tool watch already has a solid reputation among underwater excursion enthusiasts, and now has an additional asset that is indispensable for all those who like to travel across time zones.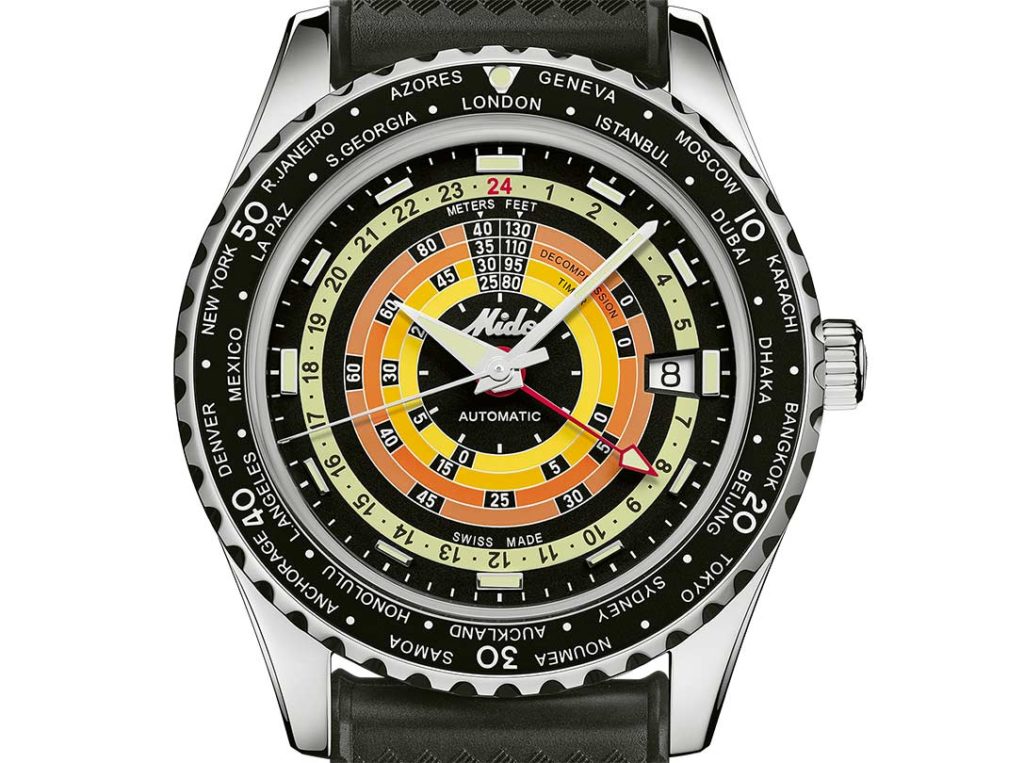 Since its creation in 1944, the Ocean Star watch has earned a solid reputation in the watchmaking world, notably thanks to its great resistance, before becoming, with the 1961 Ocean Star Skin Diver Watch, an indispensable companion for lovers of underwater excursions. The latter was reissued in 2020 and was so successful that Mido proposed an evolution, still perfect for underwater exploration since it is, among other things, waterproof to a depth of 200m, but with an additional asset that allows for serene navigation between different time zones: the new Ocean Star Decompression Worldtimer Special Edition.
In the center of the dark blue dial, in addition to the famous circular decompression scale with its four concentric levels tinted light blue, pink, green and yellow for divers, a long red-varnished and luminescent arrow flies over the vanilla-colored 24-hour ring while pointing to the bezel. The bezel, capping a 40.5mm diameter steel case, has a blue aluminum insert on which are inscribed all the capitals and major cities of the world. Simply turn it clockwise or counterclockwise to choose your destination and, thanks to the central dauphine hands, obtain the local time and home time simultaneously. Available with a choice of a rubber strap that matches the dial and is decorated with an embossed checkerboard pattern, or with an easily interchangeable steel mesh strap, this Ocean Star Decompression Worldtimer Special Edition, which beats to the rhythm of the self-winding Mido Calibre 80, is also available with a black bezel and dial and a decompression chart in shades of yellow to orange.