UNITING SAVOIR-FAIRE
To honor the cycle of the rat, the Joux Valley watchmaker espouses two traditional but highly-unusual techniques on the dial of a watch proposed as a limited edition of just 8 pieces.
The rat, the first animal in the Chinese zodiac, is known for its fertile imagination, its kindness, its curiosity, its ambition and its great sense of communication. This new cycle, which kicked off on January 25 this year, offered Blancpain the opportunity to unveil its creative and artisanal savoir-faire. Two techniques were used to fashion the Métiers d'Art Porcelaine, available in just 8 pieces: porcelain work and miniature painting on enamel.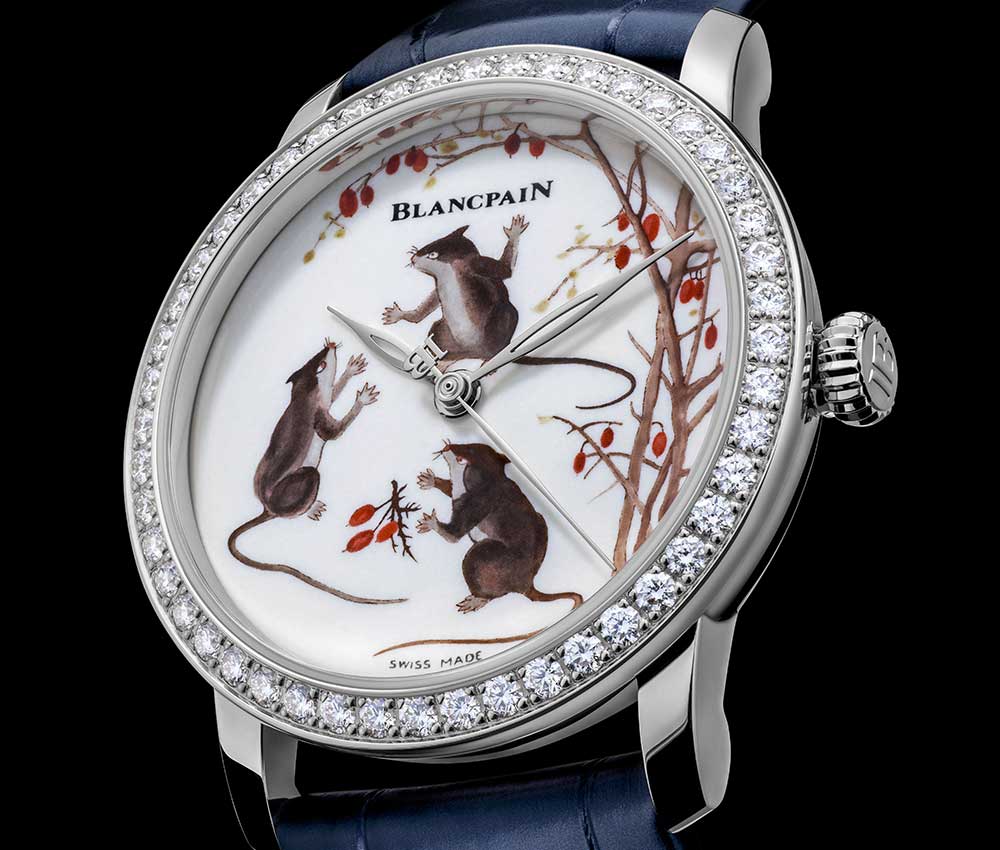 Porcelain, a fine, translucent ceramic made from quartz, feldspar and kaolin, appeared in China over two thousand years ago. Mineral and white clay powder becomes a paste in contact with water and is then sifted and filtered before being cast in a dial-shaped mold. After being demolded and dried, the dial is fired at length at a temperature of around 1,000°C before being enameled then fired again to glaze and protect the porcelain from the ravages of time.
On this immaculate face, a trio of rodents with brown-hued fur stands in a silent circle under branches adorned with red berries. At the center of this scene executed as miniature painting, two sage-leaf-style hands and a direct-drive tick over the hours, minutes and seconds. These features are driven by the 1154 caliber, a Blancpain-manufactured automatic movement which delivers a power reserve of 100 hours and nestles in a 33.20 mm-diameter white-gold case.
Price on request
By Sharmila Bertin