HIGHLY NUANCED
Following the LM Perpetual and LM 101, it is now the turn of the Geneva-based brand's LM 2 model to be graced with delicate, subtle hues ranging from pale blue to aqua green.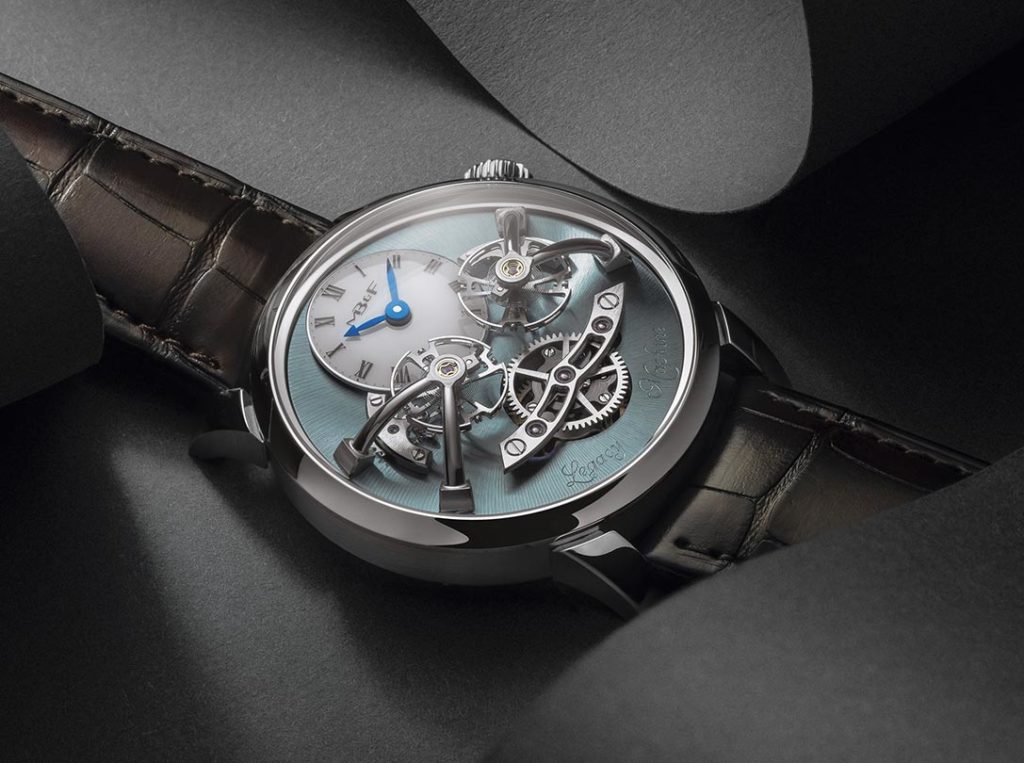 In 2013, MB&F inaugurated a new episode in its Legacy Machine saga. The latter is brought to life in the form of a timepiece with an enchanting mise-en-scène by, among others, Kari Voutilainen. A tribute to the creative genius of 18th century watchmakers, the movement developed by Jean-François Mojon takes center stage. On the dial, two balance wheels suspended from arches of exceptional refinement animate the symmetrical composition by their respective oscillations. A planetary differential unfolds under this duo. Its function is not merely aesthetic. This elevated component acts as an interface. It supplies energy to each of the regulators, records the cadence of the balances, and conveys the average of their steps to precisely synchronize the hours and minutes. Ten years after its creation, the Legacy Machine 2 Palladium retains all these technical features with now an elegant grey-green minute track bridge. For a perfect harmony, this limited edition of only 18 timepieces is paired with a leather alligator wristband.
The 44mm diameter rose gold case, assembled using 41 components, is machined in palladium for this series. This noble metal, akin to platinum, enhances the already refined personality of the LM2. Within this exclusive case, the 241 components of the caliber continue to ensure the smooth running of the watch. This hand-wound movement produces a power reserve of 45 hours for the watch hands operating on their small off-center white enamel dial.