THE GENTLENESS OF TIME
With unprecedented delicacy, the watch brand whose name is often associated with diving watches, captures the colorful reflections of the rainbow to imprint them on the elegant mother-of-pearl face of an exceptional timepiece.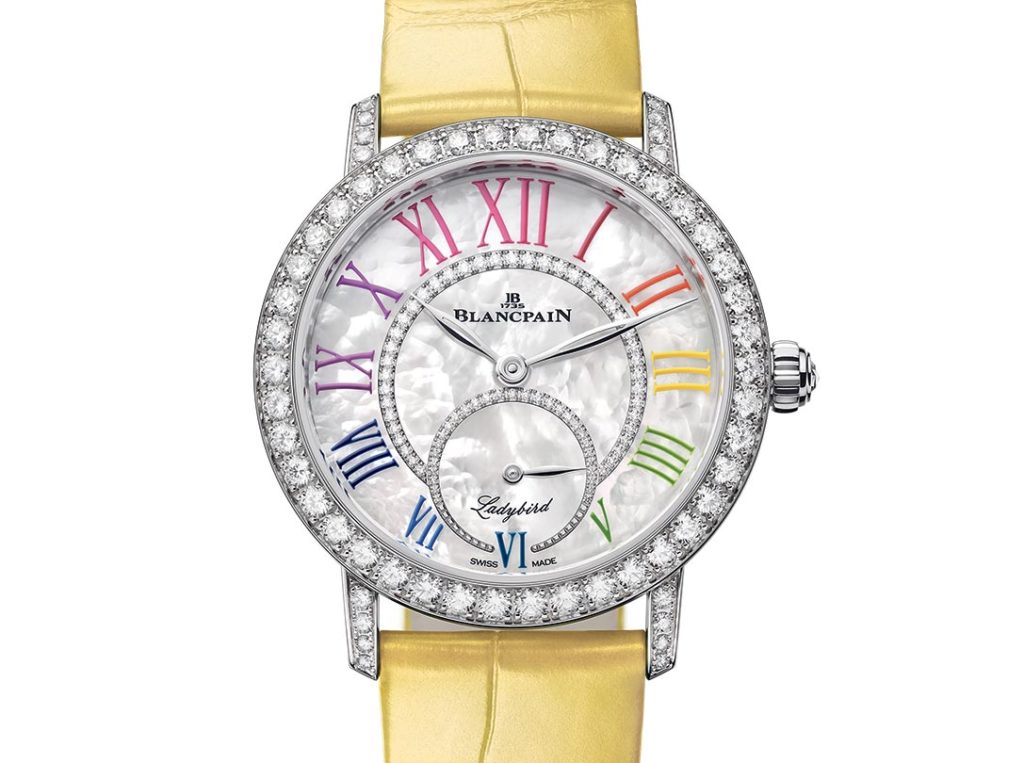 Once it's wrapped around the wrist, time fades and imagination takes over. On the skin, it appears like a lyrical cloud wrapping its cottony arms around a mountain peak. In this waking dream, the cloudiness is pierced by the rays of a summer sun bouncing off this opaline wall in a firework display. This is the magical power of the Ladybird Colors: to take you on a journey to wonderland, if only for a moment, to forget the dullness of everyday life, as your gaze settles to embrace the time. For Blancpain, time is displayed in color, in the hues of the rainbow, which, in addition to its beauty, is a call to reverie.
As a perfect ambassador for feminine watchmaking, the Ladybird Colors features a mother-of-pearl face curved with multicolored Roman numerals that seem to sway in the wind like reeds. The sunny silhouette evoked by the dial, with shades that seem to spread towards the flange, is accentuated by the presence of diamond-encrusted circles of different circumferences. The largest centralizes the hour and minute display, delivered by two silvered, openworked leaf-style hands. The smaller one, set at 6 o'clock, gently ticks off the seconds.
This time information is provided by caliber 1163, housed in a 34.9mm-diameter white gold case also lined with brilliant-cut diamonds. This self-winding movement, assembled from 195 components and equipped with a silicon balance-spring, offers a formidable 100-hour power reserve. To match your mood to your watch, the Ladybird Colors is equipped with an interchangeable system that allows you to choose from a range of alligator leather straps in no time at all: lemon yellow, candy pink, apple green, ocean blue or… cloud white!