A CHAMPION NAMED MICKEY
The most famous mouse in the world, with a ball on his feet, has made a watch dial his favorite playground. Animated by a triple complication, the aerial match led by Disney's little rodent pays tribute to the creative genius of a great designer.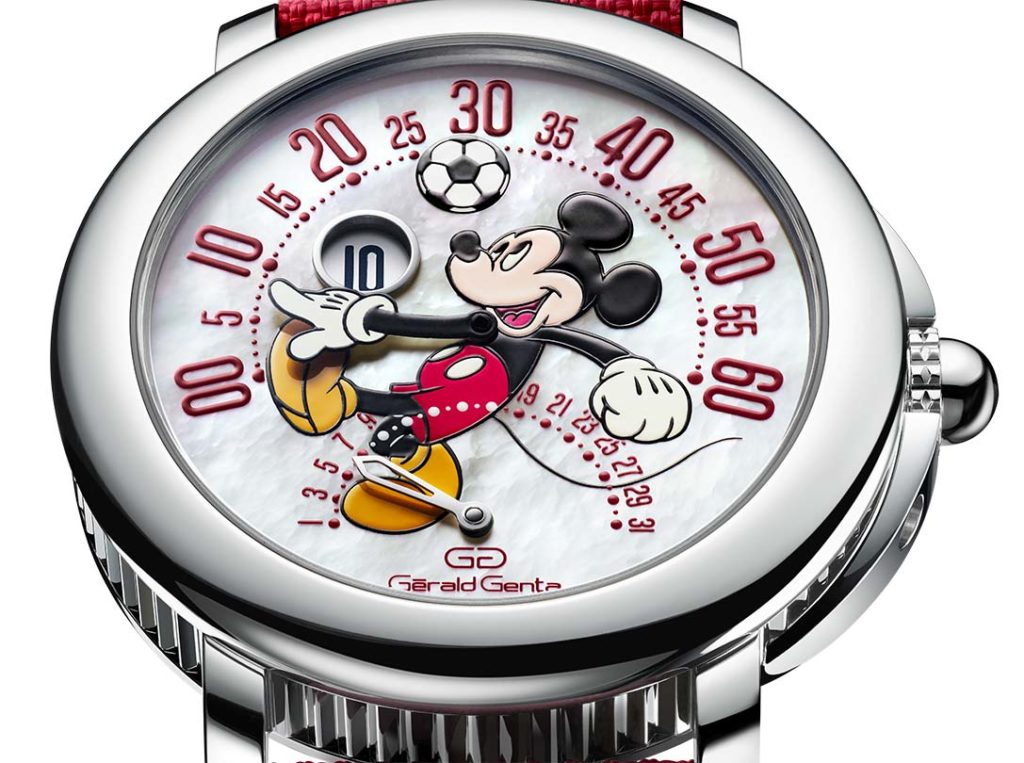 While watchmaking often has the image of a traditional industry, it does not hold back the imagination of those who believe in the power of a smile. And there is nothing more comforting, when the situation is serious, than the joyful mischief of cheekbones that lift and eyes that shine. When he signed a license with Disney in the 1980s, Gérald Genta (1931-2011) proved that good humor and time are the best combination. He put Mickey Mouse and Donald Duck, the most famous characters in the universe imagined by Walt Disney (1901-1966), on watch dials. Nearly half a century later, Bvlgari is reviving the sparkling spirit of the little rodent as interpreted by the Geneva-based designer with a first piece presented in 2021 and then, this year, with the Gérald Genta Arena Bi-Retrograde Mickey Mouse limited to 200 pieces.
On the mother-of-pearl dial, composed of stamped layers, the figure of the rodent dressed in his usual red shorts combined with a pair of yellow hooves playing with a football. One of his white-gloved hands follows the arc of the retrograde minute while a window at 10 o'clock indicates the jumping hour. The date, also retrograde, appears at 6 o'clock. This complex triple display is powered by the BVL300 manufacture caliber, a 4hz automatic movement that delivers 42 hours of power reserve and is housed in a 41mm diameter steel case. This Gerald Genta Arena Bi-Retrograde Mickey Mouse can be worn on a red textured like fabric rubber strap matching the indexes on the dial.