THE TIME OF DELICACY
The Biel-based company's collection of timeless watches has been expanded to include eight new small-diameter models, combining an exclusive gold alloy with equally exclusive designs for the most refined wrists.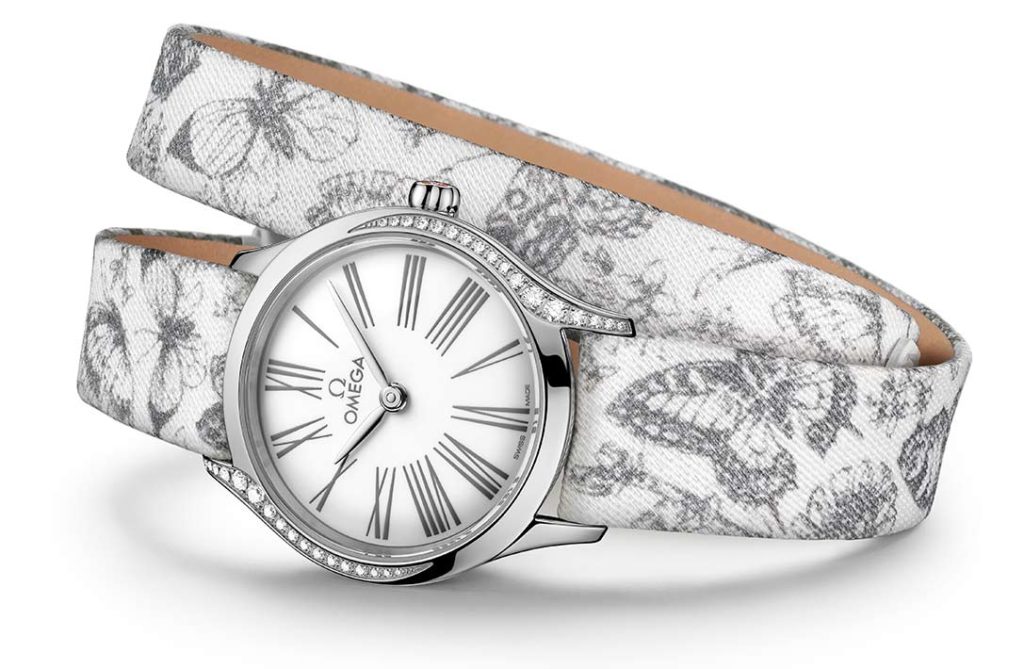 "Everything small is cute", a saying that is largely confirmed by the new series of Mini Trésor, part of the large De Ville family, which has joined the Omega catalog. Like a candy box or a plate of sweets, and despite a contained gourmandise, the choice is difficult because the suggestion is so rich! Indeed, the elegant quartz watch from the Biel watchmaker comes in several variants, whether in metals, colors, dials, straps…! A short summary of the different options is necessary to (try to) facilitate this choice.
The 26mm diameter case, delicately embraced by two bands of diamonds, is available in steel or MoonshineTM gold, Omega's signature soft-tone yellow gold alloy. Its right side is punctuated by a crown stamped with a red liquid ceramic petunia set with a central brilliant and its back features a mirror engraved with a floral design.
Equally delicate, the dial is adorned with ivory Grand Feu enamel with elongated Roman numerals in red, blue, black or gray, or a MoonshineTM gold disc decorated with a silky effect inspired by a textile weave. As for the bracelets, they are covered with Toile de Jouy, a fabric born at the end of the 18th century in the Parisian region, whose exclusive designs poetically represent the different worlds of the watch brand. Single strap for the gold and enamel references, double strap for the steel models, or entirely in MoonshineTM gold sculpted like a precious fabric and fitted with a special folding clasp. What will be your choice?