BACK TO THE FUTURE
Last fireworks set off before the end of a particularly festive year for the watch brand from Le Brassus with this modern and poetic interpretation of a display that is nearly four centuries old.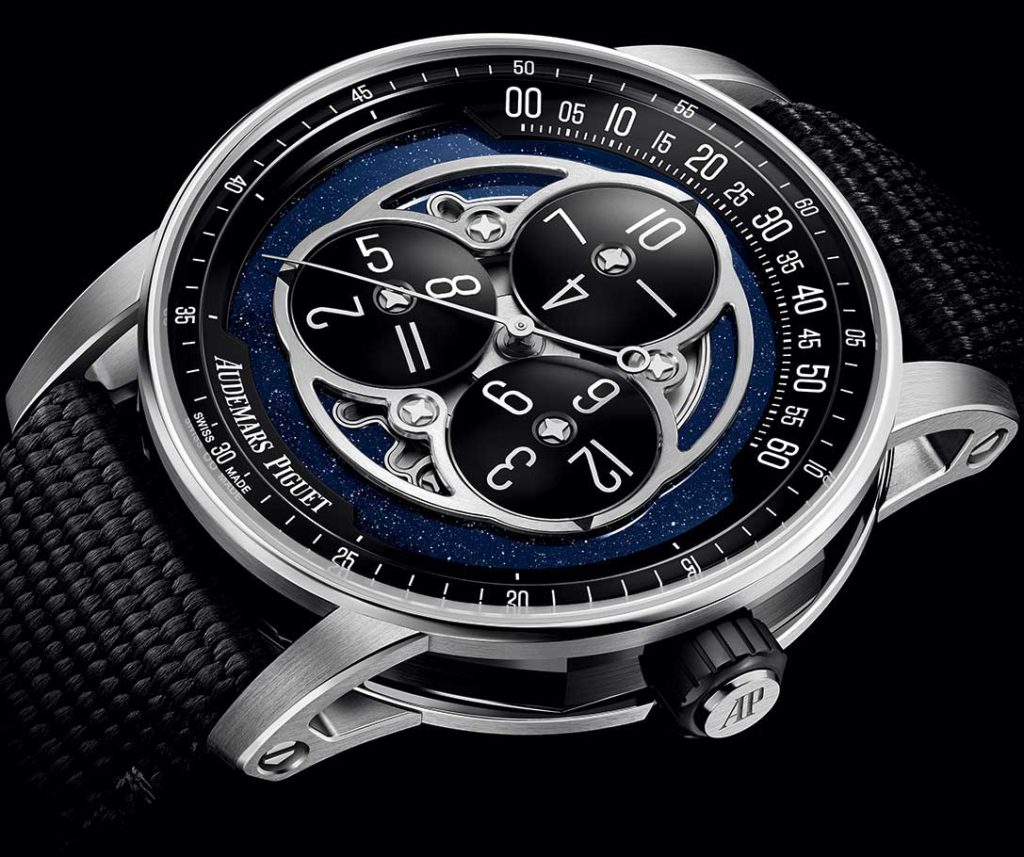 While 2022 was a festive year for the Royal Oak collection as it celebrated its 50th birthday, the young Code 11.59 by Audemars Piguet family was not neglected. On the contrary, it welcomed several pieces, including the spectacular Tourbillon Openworked with its architectural face tinted electric blue, and concluded the past twelve months with a fascinating model: the Code 11.59 by Audemars Piguet Starwheel, which offers a modern and poetic interpretation of the wandering hour complication, a particular display that is nearly four centuries old, brought up to date by Audemars Piguet as early as 1991, and which is now included in this range of watches.
Floating in time like ships sailing at night on an ocean of aventurine glass, three domed black PVD-coated aluminum discs replace the traditional hour hand. Each one carries four white Arabic numerals, from 1 to 12, and a dark arrow that they point in turn to the arc of a circle graduated from 0 to 60 that stretches from 10 to 2 o'clock along the black flange. The seconds swirl around the center, indicated by a long, slightly curved second hand. These functions are set by the self-winding caliber 4310, which provides a significant energy reserve of almost three days and is housed in the heart of the 41mm-diameter, 10.7mm-thick case. True to the collection's aesthetic signature, this case combines two light and robust materials in two different colors: white gold for the bezel, horns and back, and black ceramic for the case middle and crown.