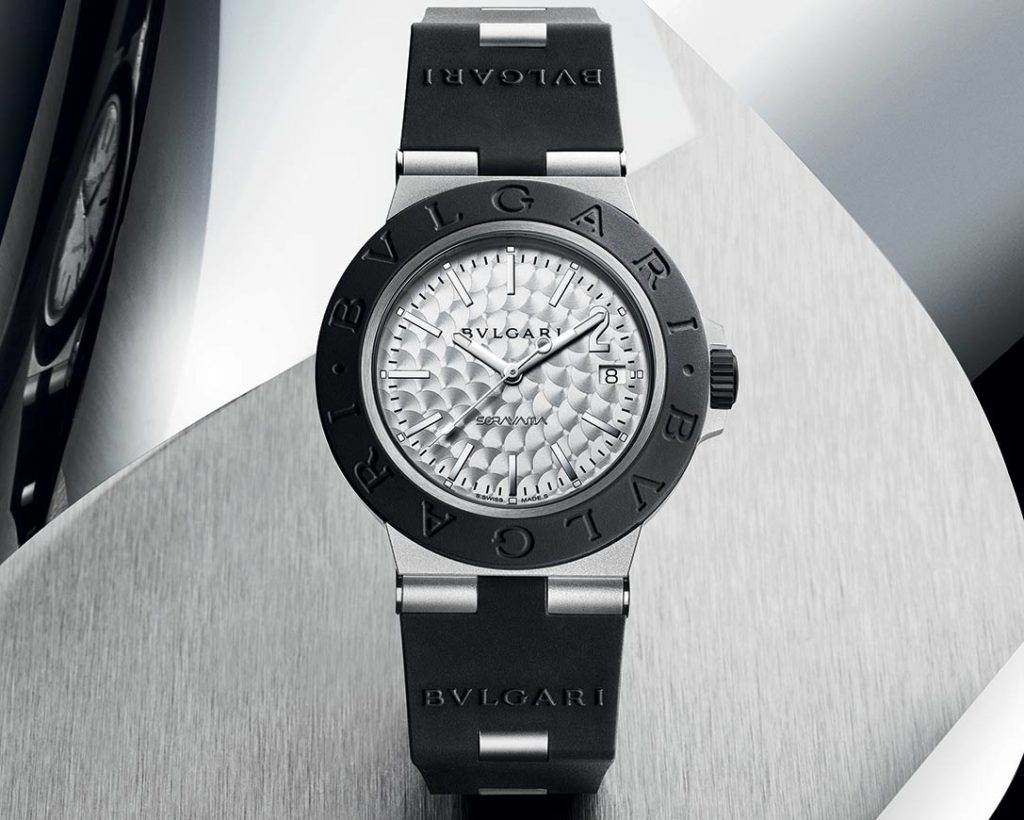 "Whatever you dream of doing, get started. Audacity holds genius, power, and magic"* A mantra for the Bulgari man of the 21st century! To accompany this approach, the manufacturer has been breaking watchmaking codes since 1998 with its Aluminum collection. A 40mm diameter case machined in the metal giving its name to the collection, together with a rubber bezel bearing the name of the Italian brand. Since then, this model and its variations, whose design more than ever reflects the spirit of the times, have become a landmark reference. With their common DNA, yet their original personality, the three limited series of 1,000 pieces each, with their graphic dials, are following the paths traced by their predecessors.
Bravery indeed, is what it takes when you line up for a race astride overpowered motorcycles. Bulgari pays tribute to this distinctive character trait with the Aluminum Chronograph Ducati, adopting the color codes of the famous motorcycle manufacturer from Bologna. Performance is the name of the game with its chronograph caliber capable of measuring time with pinpoint accuracy.
Courage also defines those who embark on board the Amerigo Vespucci. The sailing school ship of the Marina Militare trains future officers. Its motto "Non chi comincia, ma quel che persevera", or Not the one who commits, but the one who perseveres, reminds us on the case back of the Aluminum GMT Amerigo Vespucci that rigor serves as a compass. An automatic movement animates the hands of this practical and aesthetic travel watch. Boldness also motivated Hajamie Sorayama when he introduced his disruptive erotic illustrations in the 1970s. The brilliance of his sensually anatomical robots graces the Sorayama Special Edition Aluminum with understated galvanized textures and details coupled with a laser-engraved pattern. The silvery dials with their pearlescent reflections recall the sublimely curved bodies of cars and planes that emerged from the Streamline Moderne aesthetic movement in the 1930s and 1940s. The presence of the number 2, the designer's signature number, on the purified composition reinforces the offbeat personality of this limited edition. Audacity also requires a certain amount of know-how.