CARBON FOOTPRINT
New variation, new aesthetic! For this version, produced in a limited edition of 25 timepieces, the brand decided on a composite material with very attractive properties.
As the ninth installment of the UR-100 saga that began in 2019, the UR-100V C52 stands out with its 41×49.7x14mm case machined from High Resistance CRP carbon made up of 52 strata compressed in an epoxy polymer resin. Of an unfailing durability, it also emphasizes the importance of being lightweight. It weighs only 11 grams, including the titanium back! The striations of the material play a part in the design of the Urwerk watch, accentuating both the curves and the straight surfaces. As with the previous models, the timepiece is powered by the UR 12.02 caliber. This self-winding mechanism with a 48-hour power reserve is remarkable, among other things, due to the presence of a profiled propeller, the Windfänger that controls the action of the bidirectional oscillating weight. These two elements can be viewed through the sapphire back of the case. On the openworked dial, the original display of time information inherent to the collection can be admired. The impressive carousel of the satellite time remains combined with a retrograde minute. Green SuperLuminova® painted markers and numerals ensure easy readability under any light condition.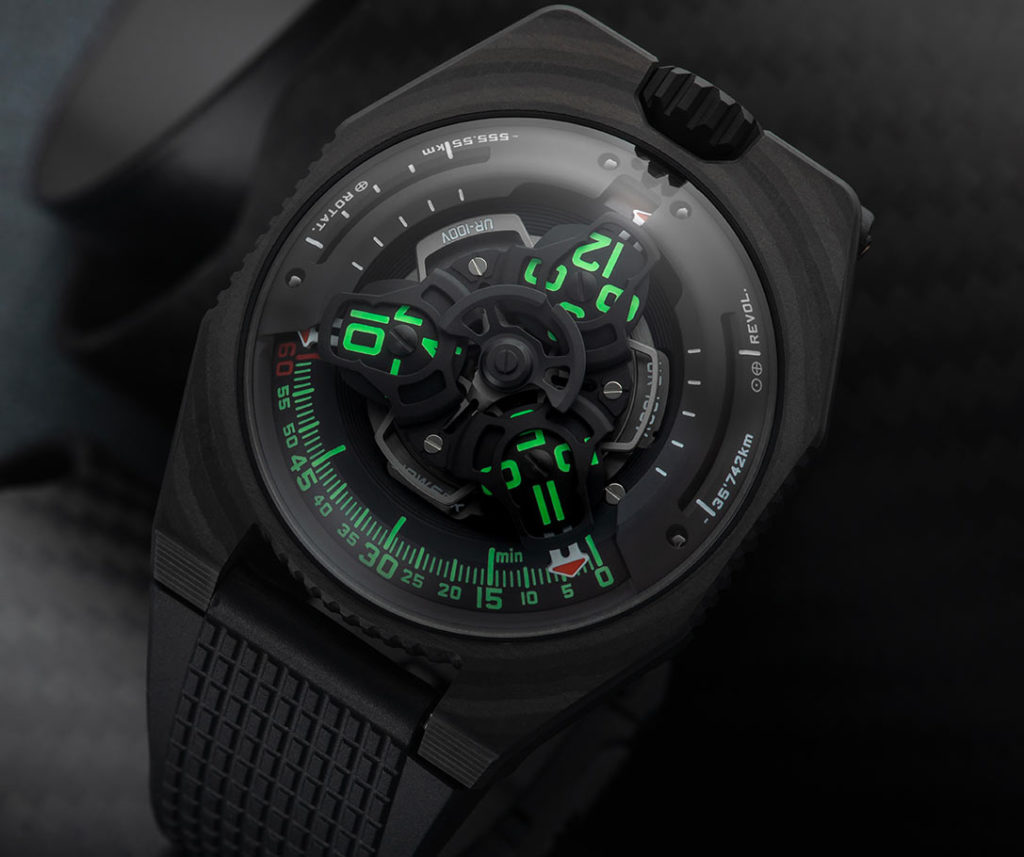 As with all the previous models of the series, on the periphery can be seen, on both sides, the distance traveled from a point to the equator in 20 minutes, 555.55 km, and that of the Earth around the Sun during the same period of time, 35,742 km. A nod to a clock crafted by Gustave Sandoz indicating the path taken by our planet at the level of the greatest parallel in place of the hours.